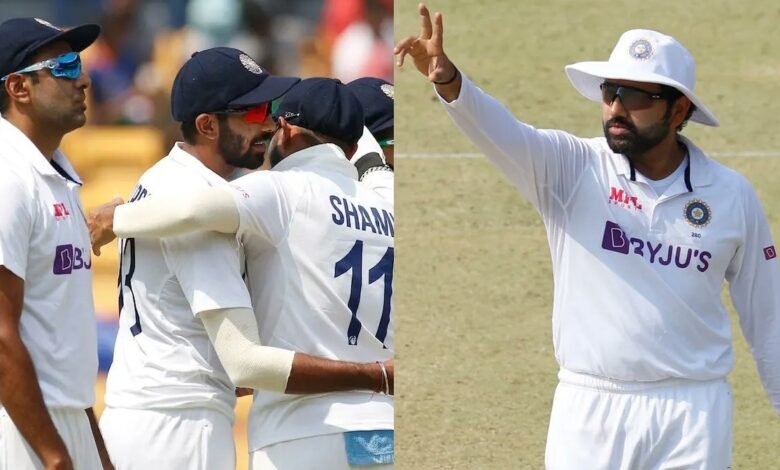 India have climbed to the fourth position on the ICC World Test Championship standings. They were below Sri Lanka when the series between the two Asian nations began on March 4. India won the first match by an innings and 222 runs. Earlier today, they won the second Test by 238 runs and attained fourth place in WTC points table.
When the series between the two teams started, Sri Lanka were number one with 100% points to their name. The islanders were coming off a 2-0 win over the West Indies in their first series of the new cycle. So they were number one on the WTC points table.
Now, after two big defeats against Team India, the islanders have fallen down to the fifth position. Their points percentage has come down from 100 to 50. Meanwhile, India have 58.33% points to their name.
Fans should expect more changes in the WTC points table soon because Pakistan and Australia are playing a series. The first match ended in a draw, and it looks like Australia may win the second match. Many fans think two teams from Australia, South Africa, Pakistan and India may qualify for the next World Test Championship final.
Pink-ball Tests are difficult: Rohit Sharma comments after India's win takes them higher in WTC points table
Captain Rohit Sharma won his maiden ICC World Test Championship series as the Indian cricket team captain. He was excellent as a captain in both matches. Speaking at the post-match presentation about the difficulty of playing a pink-ball match, Rohit said:
"Pink-ball Tests are difficult. We've never experienced what it's like to play with a pink ball in India, but we're learning to adapt. It's much more spectacular because of the crowd."
With this series, India's home season has come to an end. The Indian stars will now play IPL 2022 from March 26.