News
Here's Why MS Dhoni Batted Ahead Of Yuvraj Singh In WC Final 2011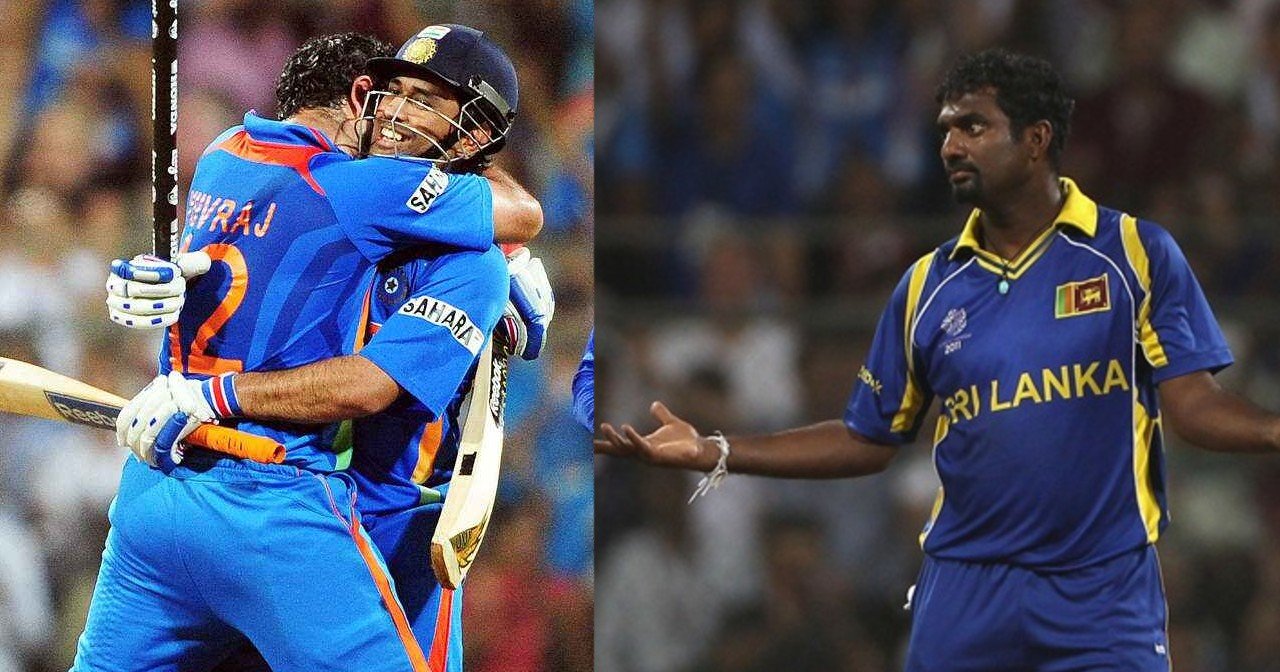 "Dhoni…finishes off in style…a magnificent strike into the crowd…India lift the World Cup after 28 years…the party starts in the dressing room…and it's an Indian Captain who has been absolutely magnificent on the night of the final"
These were the words that came out of Ravi Shastri's mouth after a monstrous winning six that came via MS Dhoni's bat, which still remains an iconic moment in the history of Indian cricket even after a decade.
April 02, 2011, was the day when the Indian cricket team registered the iconic ICC World Cup 2011 triumph by defeating Sri Lanka. From Gautam Gambhir's crucial knock of 97 runs, Yuvraj Singh's heroics, MS Dhoni's masterclass to Sachin Tendulkar resting on young Virat Kohli's shoulders, the memories of the iconic World Cup 2011 triumph are etched in every cricket fan's mind.
Recently, Sri Lanka's spin legend Muttiah Muralitharan revisited the iconic moment when MS Dhoni stepped up ahead of Yuvraj Singh, who was in his prime back then, to smash the winning runs to lift the World Cup 2011.
Though over the years, many theories and concepts have been formed around the actual reason behind this decision of Dhoni, however, recently, Muttiah Muralitharan narrated a whole new angle of the story.
As per Muttiah, it was Dhoni's ability to read his doosra, something which Yuvraj wasn't sure of doing. He credited the ability of the former Indian skipper to play Muttiah's doosra. Dhoni cracked Muttiah's doosra when the duo shared the same dressing room while playing for their franchise Chennai Super Kings in IPL.
Here's what Muttiah said:
"I would say Dhoni read it towards the end when I was bowling to him in Chennai. I remember in the World Cup, Yuvraj didn't have a clue on me. He was supposed to come but I think because of me Dhoni came (ahead of Yuvraj)," 
"Sachin (Tendulkar) definitely read it. I thought Rahul (Dravid) didn't read it that well. (VVS) Laxman read it as well as (Gautam Gambir) Gambhir. (Virender) Sehwag I don't know if he read it all the time," 
He added:
"When I bowled the doosra, I didn't use the seam. So with the seam, you can't see it, you will have to see it from my wrist. Among the Sri Lankan players, (Kumar) Sangakkara, Mahela (Jayawardene), Aravind de Silva, Marvan Atapattu read it. (Tilakaratne) Dilshan never had a clue,"