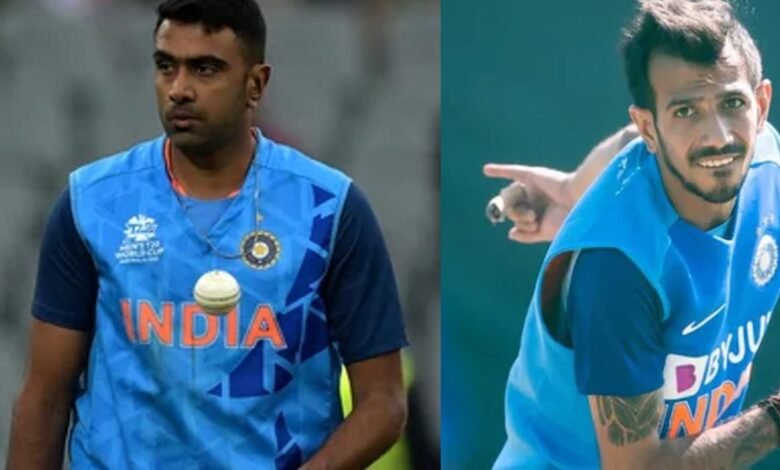 Fans on Twitter raised calls to bring leg-spinner Yuzvendra Chahal into the Indian XI for the semi-final of the T20 World Cup 2022 against England in Adelaide. They said that R Ashwin along with him form a great pair going ahead into the important stages of the tournament.
Indian spinners have struggled in the T20 World Cup 2022 
India has managed with ease to find a place in the semi-final of the T20 World Cup 2022. They played some staggering cricket in the league stage and ended at the top of the points table to book their berth in the semifinal 2 in Adelaide.
The Rohit Sharma-led side will lock horns with England and it's fair to say that there will be no room for error for them as it'll be a knockout game. Going into the game, one of the biggest concerns for them will be the form of the spinners. While pacers have done a terrific job, the slow bowlers in particular Axar Patel have failed to get going.
While Ashwin has still managed to pick up 6 wickets, Patel has been a real concern for India. Not only he has failed to pick wickets but he hasn't stepped up with the bat when he got the opportunity. On the other hand, Yuzvendra Chahal hasn't played a single game in the tournament
Fans on Twitter raise the call to include Yuzvendra Chahal in the Indian side for the semi-finals 
With the semi-final, just a few days away, fans on Twitter have raised calls to bring Yuzvendra Chahal into the playing XI in place of Akshar Patel. They feel that he along with R Ashwin will form great pair and they play in the next game. Here are some of the reactions:
India will need Chahal against England. They'll also need a much more aggressive approach in the power play overs. Rohit's form is a concern. #SayItAsYouSeeIt 😇🫶 #AakashVani

— Aakash Chopra (@cricketaakash) November 6, 2022
Which will be the ideal comb. for semis
Retweet for Ashwin – Axar
Like for Ashwin – Chahal#INDvsZIM #T20WorldCup pic.twitter.com/VA4R5cSyIs

— Anushmita⁷ (@anushmita7) November 6, 2022
#INDvsZIM #T20WorldCup         #T20worldcup22

Chahal watching Axar Patel pic.twitter.com/sRwv5GCZGV

— g0v!ñD $#@®mA (@rishu_1809) November 6, 2022
What happen with chahal ? Just checking 🤔 #T20WorldCup

— Rahul Sharma (@ImRahulSharma3) November 6, 2022
Ravi Ashwin is the worst spinner in this WC followed by Axar Patel.
I'm really really worried about our spin attack.
I reckon it's better to play Hooda and Chahal, Hooda gives you batting and Chahal gives you bowling.#INDvsZIM #Ashwin #ICCT20WorldCup2022 #crickettwitter

— Anubhav Anand (@itsAnubhavAnand) November 6, 2022
Yuzi chahal is the best ever t20 player to never play a single t20 wc game. Selection committee & dravid have blood in their hands.

— Jay. (@peak_Ability14) November 6, 2022
Ashwin and Chahal are DK and Pant of spinners. Play anyone Maan not going to make much of a difference

— Udit (@udit_buch) November 6, 2022
Get Chahal in team in replacement of Axar

— desi mojito 🇮🇳 (@desimojito) November 6, 2022
#INDvsZIM #INDvsENG #T20WorldCup

Ashwin & Chahal spin combo in the semis vs England…. pic.twitter.com/XTUYGf3waI

— Hemant (@Sportscasmm) November 6, 2022
Chahal should play the semis vs England #DoddaMathu #crickettwitter #T20WorldCup

— ದೊಡ್ಡ ಗಣೇಶ್ | Dodda Ganesh (@doddaganesha) November 6, 2022
@cricketaakash kya lagta hai semi final me chahal ko khilayegi team india??

— Sachin Mahida (@SachinMahida681) November 6, 2022
India should have played Chahal today, so that he could have some match practice before the big game of Semifinal. I think Ashwin is good enough batsmen in place of Axar to bat at Seven.

— Manish bal (@manishbal) November 6, 2022
So guys it's India v England at Adelaide on 10th ! Very nervous times for me as a fan, desperately want india to win and beat the poms convincingly ! Chahal Ashwin combo maybe considering the Adelaide pitch ?? Thoughts @RockDeadSoul @bbbohra

— Vipul R Trivedi (@vipul_capri) November 6, 2022
I'm saying the same thing , choose chahal over axar in semis . England have alot of left handers and axan isn't even contributing with bat .

— berojgar (@Prabhat23510760) November 6, 2022
Yes he should play.. DK waste his keeping very weak. Also Chahal

— Vijaykumar Chepyala (@vkchepyala) November 6, 2022
Bro Chahal is must. If you want 7 batsmen then we don't have any option other than Hooda. And Rohit doesn't use bowling skills of Hooda

— SKY FC ☁️💙 (@Gaikku) November 6, 2022
Akshar Patel ki jagah Yusuf chahal ko rakhiye aur Surya Kumar Yadav ko 4 number per sahi hai

— kamal parihar (@kamalpa22197341) November 6, 2022
My team for semi finals: Rohit Rahul kohli Sky Pant Hardik Ashwin Bhuvi Shami Chahal Arshdeep #T20WorldCup

— Sanghi (@bonghindu) November 6, 2022
https://twitter.com/Avin14277397/status/1589252580886343680?s=20&t=Q3UrIq7TI9-OIf3PmjmFMA
What do you think about chahal's chances making into the playing eleven ??

— overthewicket17 (@Viabfan124) November 6, 2022
Need to play chahal against England. If we can Axar, he is going to go for runs. Chahal is a wicket taking bowler. Against England we need to take wickets to contain them.

— ANUP SHETTY (@Anup_HS) November 6, 2022
Chahal in place of whom? Ashwin bowled well today and his batting is handy..So Axar needs to be dropped..but that does weaken batting..

— DK (@DebK669) November 6, 2022
Chahal chahiye batting strong karni h…ye fraudster dk ke place pe pant chahiye….
Kl
Rohit
Virat
Sky
Pant
Pandya
Ashwin
Bhuvi
Itne tak batting rahegi
Chahal
Arsh
Shami

— KAINEEE ☄️ (@singhkainesss) November 6, 2022
We needs middle overs wickets otherwise we are losing , team needs chahal to enforce that with Ash.Axar may turn out useless.

— Avin (@Avin14277397) November 6, 2022
Spinners performance is not satisfactory.Chahal should have been tried in today's match.

— Pradip Kumar Baidya (@ba161aad8afa4f4) November 6, 2022
Chahal should play instead of Akshar and Pant should continue instead of DK

— kartik malik (@malik_kart) November 6, 2022