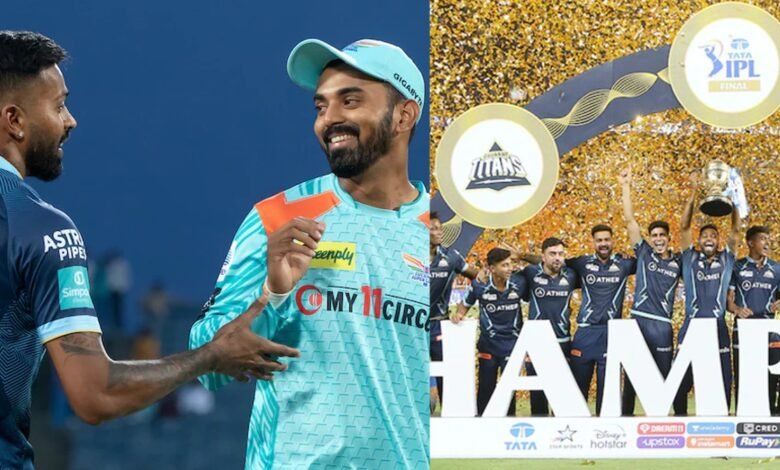 While the Indian Premier League has helped Indian cricket in many ways, with the introduction of two new teams, the benefits are only going to get higher. IPL 2022 was no different as India managed to unearth a few raw talents. Although some of the established stars did not fire, they will be expected to come to form soon. In this article, we explore a unique idea of an IPL playing XI that includes one Indian player from each franchise and two cricketers from champions Gujarat Titans. The possibilities are endless but we have arrived at a combination that looks good on paper.
Openers: KL Rahul (LSG) and Shikhar Dhawan (PBKS)
KL Rahul and Shikhar Dhawan have been popular for their run accumulation in the last few seasons of IPL. They were in similar form in IPL 2022, as well. While KL made more than 600 runs, Dhawan got 460 of them. Although they were individually decent, fans somehow expected more from them.
In KL Rahul's case, he won a few games single-handedly but his low-risk approach landed LSG in trouble on a few occasions. On the other hand, Dhawan got the runs but like he used to do in Delhi Capitals, those runs did not result in too many wins for Punjab.
Middle-Order: Shreyas Iyer (KKR), Rishabh Pant (DC), and Dinesh Karthik (RCB)
It will be a middle-order comprising Shreyas Iyer, Rishabh Pant, and Dinesh Karthik for this unique XI picking one Indian player from each franchise and two cricketers from champions Gujarat Titans. KKR had a forgettable season and because of that, Shreyas Iyer's performance has gone under the radar. He scored 401 runs at a strike rate of above 130. Considering the frequent collapses that KKR had, it was a decent show by Iyer.
Delhi did not have too many Indians contributing consistently to this campaign. Hence, for the combination of this squad, we have Rishabh Pant at No.4. Dinesh Karthik's inclusion, though, is not a surprise. He was arguably the best player for RCB in IPL 2022 and hence, he comes in here.
All-Rounders: Hardik Pandya (GT) and Ravindra Jadeja (CSK)
Hardik Pandya could not have had a better season than that he had in IPL 2022. He scored 487 runs and collected 8 wickets, including a few of them in the finals. Most importantly, he led GT to the trophy, and hence, he is an obvious choice here.
Ravindra Jadeja had a forgettable campaign in IPL 2022. That said, CSK on the whole did not enjoy the season. Although he was poor, we have got Jadeja in here as he adds a good balance to the squad. We did not see any other CSK player capable of it for this XI.
Bowlers: Bhuvneshwar Kumar (SRH), Mohammed Shami (GT), Jasprit Bumrah (MI) and Yuzvendra Chahal (RR)
India's bowling quartet will also be part of this XI picking one Indian player from each franchise and two cricketers from champions Gujarat Titans. Team India has employed this bowling attack for a number of games in the past. They return to feature for this XI, as well.
While Shami picked lots of wickets in the powerplay, Yuzvendra Chahal ended as the Purple Cap winner with 27 scalps. With regards to Bhuvi and Jasprit, it was more about the impact they had which has got them into this XI. For the 2022 T20 World Cup, it would not be a surprise if India ends up with this bowling attack.