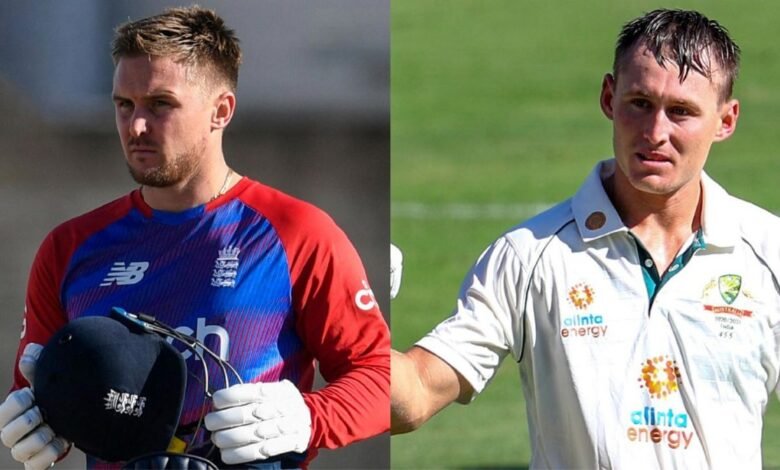 South Africa is one of the most popular cricket teams in the sport. However, there is a trend that has been set up with regards to cricketers born in the rainbow nation and then going on to represent other nations. In the past, in this context, there have been popular examples such as that of Kevin Pietersen. The scenario has not changed even now. There are many South African-born players plying their trade for a different nation. In fact, we can even make a strong playing XI comprising such cricketers. On that note, here is a look at the best active XI of South African-born cricketers who are representing other nations.
Openers: Jason Roy (England) and Devon Conway (New Zealand)
Backups: Keaton Jennings (England) and Stephan Myburgh (Netherlands)
Born in Durban, Jason Roy moved to England at the age of 10. He started playing cricket in England and is now one of the best limited-overs openers in the game.
For Conway, though, the journey was different. He played junior cricket in South Africa and then, at the age of 26, moved to New Zealand to pursue the game. The southpaw steadily climbed up in his career to now become an indispensable part of the squad.
Middle-Order: Marnus Labuschagne (Australia), Colin Munro (New Zealand) and Glenn Phillips (WK) (New Zealand)
One of the best Test batters at the moment, Marnus Labuschagne was also born in South Africa. At the age of 10, he had to move to Australia after his father got a job in the nation.
Similar to Marnus, even Colin Munro and Glenn Phillips moved away from South Africa as young boys. While Munro went on to become a top T20 cricketer for his country, Glenn Phillips is now an important part of the middle-order for the Kiwis in the middle-order.
All-Rounders: Roelof van der Merwe (Netherlands), David Wiese (Namibia) and Rusty Theron (United States of America)
Backups: Curtis Campher (Ireland) and Shane Getkate (Ireland)
It will be an experienced all-rounders' department for this best active XI of South African-born cricketers who are representing other nations. Interestingly, all the three players in this category actually started out their careers while playing for the senior squad of the Proteas.
In all these cases, the reason for shifting to a different nation is the same. They were devoid of opportunities in their home nation and hence, they had to switch loyalties. In 2022, van der Merwe has not played for the Netherlands. However, he could make a comeback. David Wiese recently played in the 2021 T20 World Cup for Namibia and was impressive. Rusty Theron is an important part of the USA cricket team and is likely to be the lead all-rounder for his side at the 2024 T20 World Cup.
Bowlers: Tom Curran (England), Jade Dernbach (Italy) and Neil Wagner (New Zealand)
Backups: Stuart Meaker (England), Michael Rippon (New Zealand) and Michael Neser (Australia) and Ruben Trumpelmann (Namibia)
Tom Curran is the son of former Zimbabwe cricketer Kevin Curran. The speedster was born in Cape Town, where his father played for Boland. On the other hand, Sam Curran was born in England. Jade Dernbach currently plays for Italy but was once part of the English setup. His birthplace is also South Africa.
There are many South African-born cricketers who turned up for the Kiwis. Neil Wagner is one of them. Born in Pretoria, the left-arm pacer has collected close to 250 Test wickets for New Zealand so far.