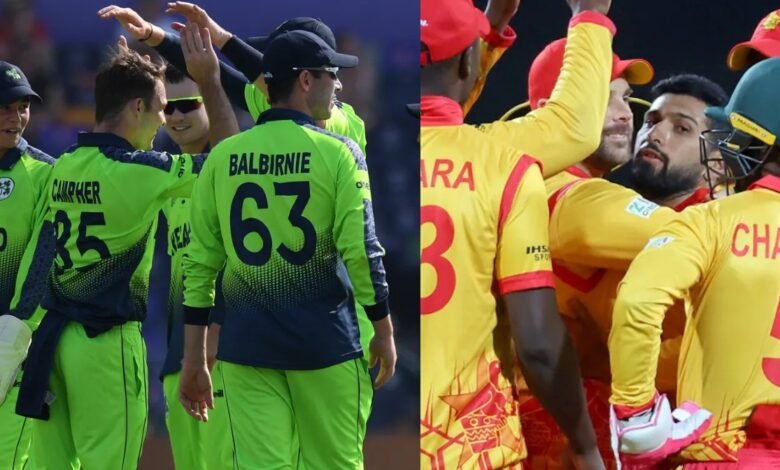 Fans on Twitter reacted hilariously as teams that defeated the finalists of the T20 World Cup 2022 didn't even qualify for the 2024 T20 World Cup. They revealed the reason behind their not qualifying and expressed their sympathy with them.
Ireland and Zimbabwe failed to qualify for the 2024 T20 World Cup 
The T20 World Cup 2022 is about to conclude. After the exciting 44 games, it has come down to the showdown. Pakistan and England are the two teams that will cross swords with each other for the final of the tournament on Sunday (13th November).
However, with this edition yet to conclude, 12 teams have qualified for the 2024 T20 World Cup which includes West Indies, USA ( who are hosts), India, England, New Zealand, Pakistan, Australia, South Africa, Afghanistan, Sri Lanka, Netherlands and Bangladesh.
However, Ireland and Zimbabwe, who played well in the league stage failed to qualify. The reason behind them not being there for the next World Cup is that they ended their respective groups at the bottom. Ironically, Ireland defeated England and Zimbabwe thumped Pakistan and still qualified.
Zimbabwe beat finalists Pakistan.
Ireland beat finalists England.

Zimbabwe and Ireland are the only teams from the Super 12s who haven't automatically qualified for the next #T20WorldCup in 2024 👀 pic.twitter.com/DF4i4kofx2

— ESPNcricinfo (@ESPNcricinfo) November 11, 2022
Had West Indies and the USA not been the hosts for the next edition, both Ireland and Zimbabwe would've qualified for the 2024 edition of the tournament. They now have to play qualifiers ahead of the event to find themselves in the next stage.
Fans on Twitter react as the teams who beat the finalist didn't  qualify for the 2024 T20 World Cup
As both Ireland and Zimbabwe failed to qualify for the 2024 T20 World Cup, fans on Twitter expressed their emotions as the teams who defeated the finalists are not on the scene for the next tournament. They gave mixed reactions to it and here's what they said:
😭😭😭 #INDvENG pic.twitter.com/7AG5fgZLpo

— Radhika Chaudhary 👑 (@radhika2584) November 11, 2022
Real winner is Zimbabwe and Ireland are officially finalist 😹

— HemantRajSharma (@HemantRajSharm5) November 11, 2022
England started bad but they would have won it had it not been for D/L. On the other hand we played poor cricket against Zimbabwe. Zimbabwe beat Pakistan and Netherlands beat saouth africa. If Zimbabwe is left behind then it means Netherlands played better cricket.

— Muhammad Nayab Butt (@iamNayabButt) November 11, 2022
Final we need : Zimbabwe vs Ireland
Final we got : England vs Pakistan

— Mubasshira 😛 (@Aira652003) November 11, 2022
These teams must be proud of beating two top teams .

— RASHID (@rashidahmed87) November 11, 2022
And both deserve in place of bangladesh, Netherlands or srilanka

— Vivek Desai (@VivekDe41568171) November 11, 2022
Punishment for troubling the big boys😃

— Ajmal khan (@PyaraIslamabad) November 11, 2022
Unpredictable Game 😑

— VIVEK (@vivek1252vkr) November 11, 2022
Because #WestIndies and #USA qualified already as Hosts.. Both are not in Super 12… https://t.co/ISxWYdcMCe

— துணிவான கோகுல்🇮🇳 (@GokulTalks) November 11, 2022
This is a fundamental injustice. Qualification for World Cups should not be so arbitrary – it should be based on consistent performance over years, which both @cricketireland and #Zimbabwe #Cricket have displayed. @ICC please address this. https://t.co/nJFQRG6RW3

— David Coltart (@DavidColtart) November 11, 2022
Incredible Tournament this year@CricCrazyJohns @mufaddal_vohra
Your take on this ? https://t.co/vBsIFg5BIa

— Master RS 🇮🇳 (@VDMaster11) November 11, 2022
Still can't believe how both #England and #Pakistan qualified after losing against such low rank teams in group stage 😐

Where did @BCCI go wrong ?@WasimJaffer14 @thebharatarmy @virendersehwag @IrfanPathan@MishiAmit @GautamGambhir@vikrantgupta73 @bhogleharsha#INDvsENG https://t.co/oGFqofIlfX

— Prakash Aamir (@PrakashAamir) November 11, 2022
Zimbabwe deserve the spot, but Netherlands outperformed them… https://t.co/mh0ZHFlQuG

— HAMZA 🇵🇰 | 🏏 #YellowStorm ⚡ (@RjHamii4u) November 11, 2022
Finalists beaters not guaranteed a berth in the next edition.

A testament of how competitive and interesting #T20WorldCup have been this year. https://t.co/ZTVYtwUdua

— Kamran Muzaffer (@Krick3r) November 11, 2022
Irony is the word! https://t.co/Pr3jHNUHen

— Devarchit (@Devarchit) November 11, 2022
Ireland always nightmare for England 🤣🤣

2011 WC too @cricketireland beat @englandcricket mercilessly#KevinObrien man of the match 🔥#INDvsENG @BCCI #ENGvsIRE#INDvsZIM #ENGvsIND https://t.co/oGFqofIlfX

— Prakash Aamir (@PrakashAamir) November 11, 2022