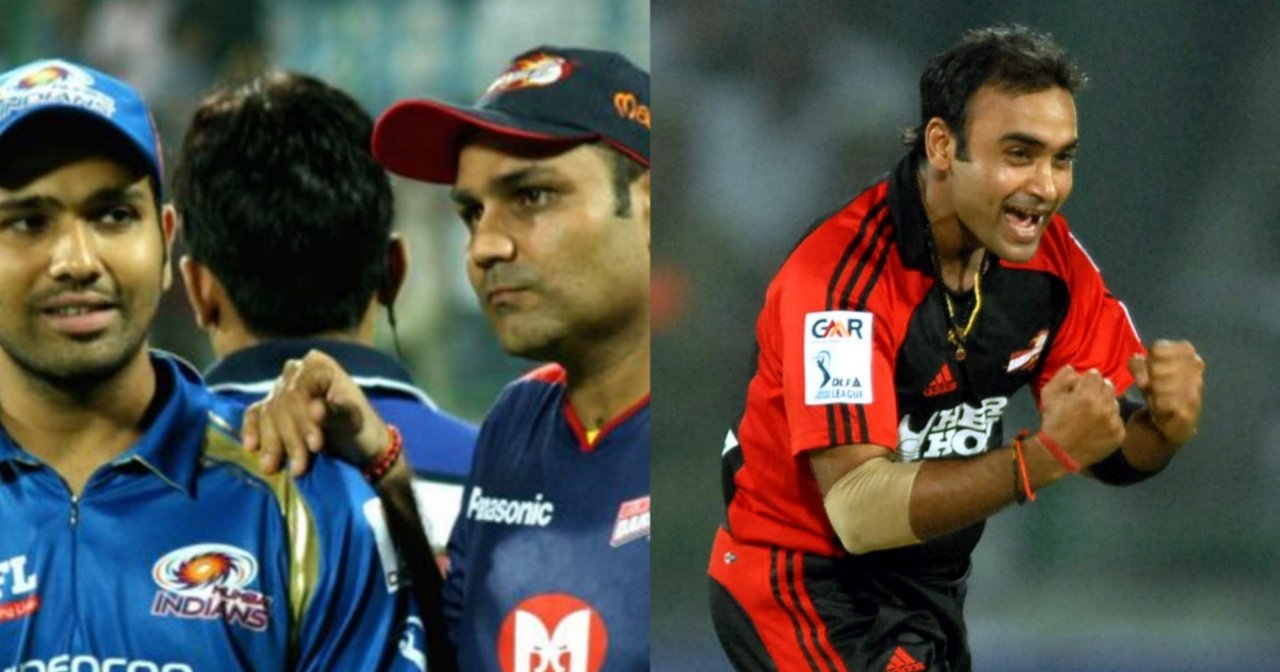 Indian Premier League (IPL) is an enormous league in the cricketing world and since IPL started T20 cricket has been very demanding, popular and everyone wants to be a part of it. IPL cannot progress without Indian players and every aspiring youngster wants to be a part of it. Through the IPL numerous players got the opportunity to showcase their talent. IPL was started in 2008 and since then India has explored many promising cricketers who are now a big name in world cricket and many people would probably think that what will be the best IPL XI of Indian players? Many Indians have played IPL but when it comes to the best the list goes on and on but only XI players can play the game. 
So, in this article, we will talk about the IPL XI of Indian players.
Openers – Virender Sehwag & Rohit Sharma
The openers for the XI will surely be Virender Sehwag & Rohit Sharma because both of them will provide explosive starts and might turn out to be a nightmare for the opposition. Rohit Sharma can open the Innings and captain the side because of his dashing records. 
Overall Sehwag has played 104 matches in IPL and scored 2728 runs with the sizzling strike rate of 155.44 whereas, Hitman has played 207 matches and scored 5480 runs with the strike rate of 130.51 and with this he has overall won 6 IPL trophies and as a captain, he has won 5 trophies and both of them surely make in our best IPL XI of Indian players.
Middle-order and wicketkeeper – Virat Kohli, Suresh Raina & MS Dhoni
Virat Kohli is called the superstar of the game. The way King Kohli smashes classy shots is worth watching. But, unfortunately, he is still searching for an IPL trophy but keeping the trophy apart. Virat has been fantastic and a strong number 3 batsman who's capable of dominating with his positive attitude. The run-machine Kohli has played 199 IPL games so far and scored 6076 runs and 5 IPL centuries which is a great achievement.
Suresh Raina is also called Mr IPL An elegant left-handed attacking batsman who is the backbone of Chennai Super Kings and has played a crucial role in CSK's 3 IPL trophies. Mr IPL has played 200 matches and scored 5491 runs with a strike rate of 136.86.
Now let's talk about the captain cool and the man who led team India to win the maiden ICC WT20 in 2007 and we all know he's none other than MS Dhoni. Without MSD's inclusion, this team is incomplete. The fearless wicketkeeper-batsman has been a successful captain for India and has helped CSK win 3 IPL trophies. By playing 211 IPL games MS has scored 4669 runs with the strike rate of 136.64 and has done lightning fast stumping and impressed the world with his keeping and these 3 players will surely be the perfect middle order for the best IPL XI of Indian players.
All-rounders – Hardik Pandya and Ravindra Jadeja
Without an All-rounders team won't be able to survive. So if we are including the All-rounders Hardik Pandya and Ravindra Jadeja surely stay in the XI. First talking about Hardik Pandya, an absolute attacking batting all-rounder who's also good with the ball has been scouted by Mumbai Indians and has played many match-winning knocks. By playing 87 matches, Pandya scored 1401 runs with a deadly strike rate of 157.24 and grabbed 42 wickets. 
Talking about 'Sir Ravindra Jadeja', he has been a match-winner for team India and CSK. Sir Jadeja has a record of smashing 5 consecutive sixes in the final over in the 2021 edition and was also looking good with the bowling and fielding. Jadeja has played 191 matches and scored 2290 runs and 120 wickets with the best bowling figures of 5/16. With his left-handed batting and bowling skills, he features in the XI.
Bowlers – Amit Mishra, Sandeep Sharma, Jasprit Bumrah and Ashish Nehra
The second-highest wicket-taker in IPL is none other than Amit Mishra. Amit Mishra is called the legend of IPL. Mishra has grabbed 166 wickets by playing 154 matches and with the best bowling figures of 5/17. IPL can be very risky for spinners to dominate because the batsman always tries to charge on them but Amit Mishra being the best leg-break bowler has been an impressive and important part of the Delhi Capitals. 
Sandeep Sharma is the bowler who can swing the ball and bring up new variations. In 2013 he impressed everyone on his debut IPL and was called the new swing king. Till now he has played 95 matches and grabbed 110 wickets with an economy rate of 7.8. 
Jasprit Bumrah's impressive career started in 2013 and was noticed when he dismissed Virat Kohli. Bumrah is known for his bowling in death overs and can bowl fiercely Yorkers and grabbing wickets. Bumrah has been a valuable asset for Mumbai Indians and team India. Overall he has played 99 matches so far and grabbed 115 wickets with the best figures of 4/14.
One experienced player can be beneficial for the team and Ashish Nehra is the best for this job. The left-arm fast-medium bowler has the experience and also the ability to keep the batsman quiet. This speedster has an impressive IPL career. Even while dealing with injuries Nehra has played 88 games and clinched 106 wickets with the best figures of 4/10. So this is the list of the best IPL XI of Indian players.