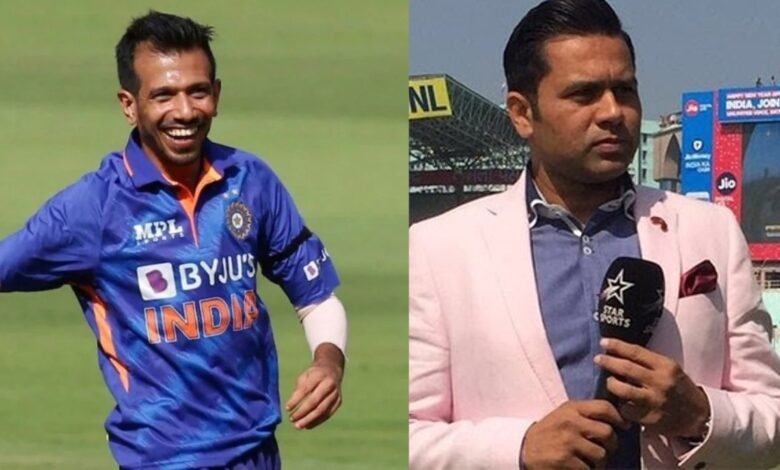 Former Indian cricketer Aakash Chopra has questioned the selection of Indian spinners in the team for the T20 World Cup 2022. He feels that only Yuzvendra Chahal is the wicket-taking option in the side whereas others are defensive options.
"The others are defensive options, you can see the numbers for the last 12 months," Aakash Chopra on India's spin options 
The Board for Control for Cricket in India (BCCI) on Monday (12th September) named a 15-member squad for the T20 World Cup 2022. The squad seems pretty balanced with quality batters and bowlers in the side.
In the spin department, the selectors have opted for leg-spinner Yuzvendra Chahal, off-spinner R Ashwin and left-arm spinner Axar Patel. While Ravi Bishnoi could have been a tempting option, but they decided to add him in reserves as they went in with the experience of Ashwin.
R Ashwin doesn't plays t20 cricket for India for 3 years and suddenly gets picked for 2021 T20 World Cup. Then again doesn't plays T20i for next 1 year and get into 2022 Asia Cup and t20 wc squad. What a selection 👏👏 https://t.co/8Rbw51PCpR

— A l V Y (@WoniWroos) September 12, 2022
Aakash Chopra pointed out the key things that India's spin bowling department lacked. Speaking in a video posted on his YouTube channel, he said:
"You have picked three spinners – an off-spinner, a leg-spinner and a left-arm spinner. So you have picked different-different options but Yuzi Chahal is the only legit wicket-taking option in T20 cricket 
"The others are defensive options – make no mistake, that is the truth. You can see the numbers for the last 12 months, IPL included for both of them – Axar and Ravichandran Ashwin. 
Chopra also highlighted that although the Indian team looks balanced but they should've included either of Ravi Bishnoi or Kuldeep Yadav as a wicket-taking option in the team.
"Ravi Bishnoi was a tempting option available to you. You are not thinking about Kuldeep at all, which is slightly disappointing, but he could also have been a wicket-taking option. But you didn't think about either of them. Ravi Bishnoi should have been included in the t20 world cup squad. Rest everything seems fine." 
Aakash Chopra unsure of what spin bowling combination will India play in the T20 World Cup 2022 
India is likely to play three seamers and two spinners in the tournament along with fast bowling all-rounder in India. But with Axar having the batting abilities he can likely play along with Yuzvendra Chahal in the side.
Also, they can opt for the combination of R Ashwin and Axar Patel as it can provide them depth in both batting and bowling department.
Ravi Bishnoi, who was India 's best bowler against Pakistan in the Asia Cup, has not been able to find a place in the 15 man squad with Indian selectors preferring Yuzvendra Chahal who was below par in the Asia Cup

U have gotta feel for Ravi Bishnoi#T20WorldCup#AsiaCup2022 pic.twitter.com/1UaiwOVuJB

— Arnav Singh (@Arnavv43) September 12, 2022
Chopra said that he's unsure about Ashwin and Axar playing the role of the second spinner in the side alongside Chahal. He said.
"It will be very interesting whether you will be able to play two out of the three spinners in the XI. Will you be able to play either Axar or Ravi (Ashwin) along with Yuzi Chahal – that's going to be a big one." 
India will be looking to get all their combinations right in the T20I series against Australia and South Africa before the T20 World 2022 squad.