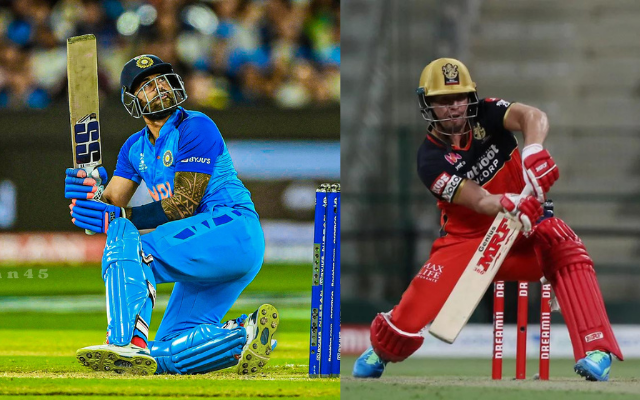 With their 71-run victory against Zimbabwe, India secured a spot in the ICC T20 World Cup 2022 semifinals. The Indian bowlers kept the opposition to a low score after KL Rahul and Suryakumar Yadav led the Men in Blue to a massive total of 186 in their 20 overs.
But Suryakumar Yadav's recent exploits have gotten a lot of attention for the right reasons, and he even caught the eye of the famous AB de Villiers. Yadav struck 61* runs off of just 25 balls against Zimbabwe, and the former South African captain was quite impressed with his performance.
"You're very quickly getting there dude, and even more! Well played today," responded the legendary Proteas batter to a tweet from CricTracker.
Previously, Suryakumar had responded to his comparison with de Villiers after being labelled the new-age 360-degree player.
"There is only one 360-degree player in the world and I will try to play like him," the India batter had said.
Rohit Sharma and his team dominated the Zimbabweans with the bat and the ball, defeating them by a score of 71 runs. The team's batting is beginning to show signs of life, and the bowlers have been reliable, so they may be dangerous in the semi-finals of the big tournament.
The next semi-final match pits India against Jos Buttler's England on Thursday, November 10 at the Adelaide Oval. At this point, four teams are within striking distance of claiming the championship.
Suryakumar was questioned by Ravi Shastri, the former head coach of India, over the ramp shot that resulted in a six by the Indian batter over deep fine leg. Surya detailed his mental and physical preparations for the stroke.
"I mean you got to understand what the bowler is going to bowl at that time. That is a little predetermined at that moment. I practiced the stroke a lot, when I used to play a lot of rubber-ball cricket. So, you got to be thinking what the bowler is thinking at that time. If the field is in I just back myself to go, there," he added.
You're very quickly getting there dude, and even more! Well played today

— AB de Villiers (@ABdeVilliers17) November 6, 2022