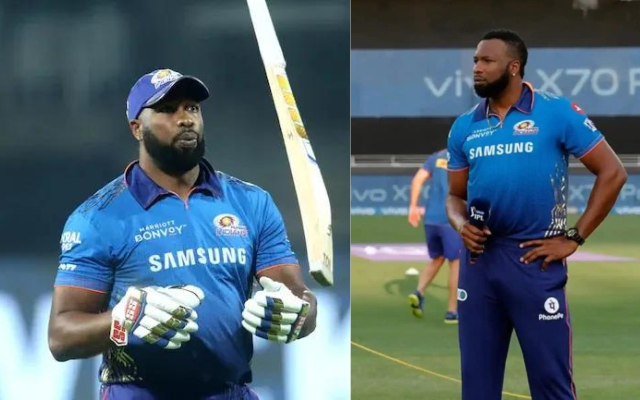 Kieron Pollard, a legend of the West Indies team, announced his retirement from the India Premier League (IPL) on Tuesday, following 13 years with the Mumbai Indians.
This marks the conclusion of one of the longest-running partnerships between a team and a player in IPL history. Kieron Pollard, the team's most senior player, has been released by the five-time champion Mumbai Indians, ending a 13-year relationship that began when Pollard was purchased by the team through the tie-breaker system in 2010 for an unknown price.
Pollard is one of the few players in IPL history to spend his whole career with the same team. Virat Kohli (Royal Challengers Bangalore from 2008), Sunil Narine (Kolkata Knight Riders from 2011), Jasprit Bumrah (Mumbai Indians from 2013), and Lasith Malinga are among the other members of this group who have participated in at least 100 matches and have been part of only one team (who had two stints at Mumbai).
The IPL clubs took notice of Pollard when he wowed them with his explosive hitting, agile fielding, and ball-playing savvy during the 2009 Champions League T20 in India. He set the floor for his 2010 auction at US$ 200,000, but he ultimately fetched a high offer of $750,000 from four teams: Mumbai, Chennai Super Kings, Royals Challengers, and Knight riders. In the IPL, Pollard was the first player to be purchased using the silent tie-breaker procedure, in which clubs were requested to name a price for the player's services on a blank check, with the franchise that submitted the highest offer receiving the player's services.
Kieron Pollard said, "Mumbai Indians needs transition, if I am no longer to play for MI then I cannot see myself against Mumbai either – Once an MI always an MI".
Twitter Reacts:
— La Croqueta (@futbol_barca_) November 15, 2022
Respect ✊ https://t.co/NWiQ84Tu0J

— Cheemz (@Baalii) November 15, 2022
Loyalty ❤️ https://t.co/ihomZ6lw28

— Mumbaicha_engineer (@berozgaarhoo) November 15, 2022
Man. The loyalty here. Would've been hard to see him turning up for any other team. (still hurts that we had to let Hardik go) https://t.co/Nu6OtAiUba

— Denial Sloss (Rohit) (@rohshah07) November 15, 2022
— Ramanan (@srkdaww) November 15, 2022
Once an MI always an MI…. https://t.co/3quAChwgYQ

— Prateem Bhattacharjee 🇮🇳🚩 (@PBTheBanglaBoy) November 15, 2022
His loyalty is something, damn https://t.co/E2ct3j1OB3

— virgil (@virgilvirgil25) November 15, 2022
One mug gone . Just need nohit to go and it will a super team 😰😰 https://t.co/RzlzlaTnfB

— ISHN ❁ (@Deshdrohit) November 15, 2022
I am not crying https://t.co/ByiGPTGJna

— aashutosh vyas (@aashutoshvyas92) November 15, 2022
One of the IPL greats. What a legacy he has had over the years. https://t.co/dJtFB91lPO

— Pankil Sheth (@PankilSheth19) November 15, 2022
What a legend. The biggest match winner ever for MI. https://t.co/4GtOYrfoaS

— Saket Patel. (@runsandrunss) November 15, 2022