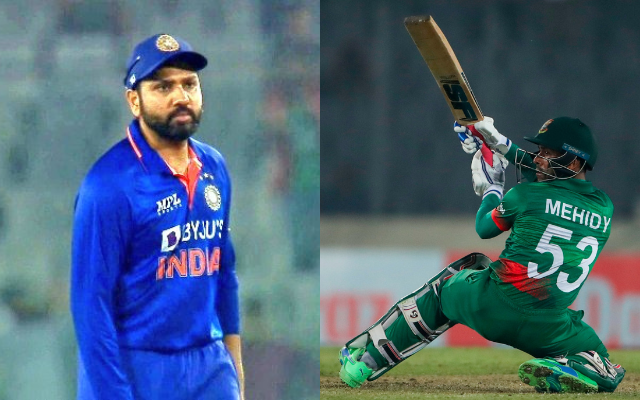 India and Bangladesh squared off today at the Sher-e-Bangla stadium in the first match of their ongoing 3-match ODI series. Despite not having a great performance in the first innings, Team India was able to take the match close, hence converting it into a neck-to-neck thriller. Although the odds were all in favor of Bangladesh after India's horrible performance in the first innings, they lost as many as 9, and at a certain point, they were indeed very close to bottling the match. However, they maintained their composure till the end and managed to win it, thus taking a 1-0 lead in the series. 
Bangladesh won the toss in this match and opted to bowl first. Coming in to bat, India were off to a horrible start. Shikhar Dhawan departed with a score of 7 runs and an in-at-3. Virat Kohli, who was one of India's best performers in the recently played T20 World Cup 2022, also departed for just 9 runs. Captain Rohit Sharma seemed to be in good touch but managed to make only 27 runs. Surprisingly, KL Rahul was India's only good performer in the batting lineup. This was indeed a big moment for him, as he was being constantly criticized by fans for his poor form. It seems like he is finally back. This knock was not only important for India, but it was also important for his survival in the Indian squad. Thanks to his performance (73 off 70), India were able to   a total of 186 runs. 
Coming in to chase, Bangladesh were off to a bad start as well after Shanto departed for a duck, but Litton Das' 41 off 63 kept their hopes alive. The Bangladeshi batters were not that great, but India's total was so low that it was too hard for the bowlers to defend. Mohammad Siraj picked up three big wickets tonight, and he was the star of India's bowling department. Kuldeep Sen and Washington Sundar also picked up two wickets each. 
However, that was not enough to contain Bangladesh, and they ended up winning the match. 
Twitter Reacts:
But but keeping for KLR so to intentionally sideline SS by so called Cricket Experts https://t.co/1FOXbk1H0l

— I'd *** for you (@BonExtravagant) December 4, 2022
Fair result.

Indian team doesn't deserved this win otherwise it would have covered the constant failure of top order batting and pathetic performance of all the 120kmph merchants, and sloppy fielding.

Failures needs to be exposed consistently in order to get better. https://t.co/JuVHybK1lE

— Deepanshu (@silentuser2000) December 4, 2022
Rohit worst captain than Kohli https://t.co/1EfTo86hw4

— Savyasachi࿗ (@Savyasanchi_) December 4, 2022
Warra choke by BCCI https://t.co/bZx6lGJRqj

— Milind (@Iam18milind) December 4, 2022
Well deserved loss..we deserve this for plsying one dimensional bowlers like chahar in the name of batting depth..
Kuldeel yadav shld have played today..ans umran as well..
Need whitewash https://t.co/d2uoN3A8y5

— Shalini (@KYAHOTUM) December 4, 2022
Deepak Chahar should put his head in sh3me in all honesty
Get it your aren't a certified death bowler but this extremely embarrassing loss is purely on you!!

Also, some 🤡 trolling KL should stop following their herd for god sake & stop embarrassing themselves!! https://t.co/mxORRIIUMb

— RuturajFan (@RuturajFan) December 4, 2022