IPL
News
T20 Leagues
Virat Kohli will see himself as a failure in IPL captaincy: Michael Vaughan
Virat Kohli had captained RCB for the first time in 2012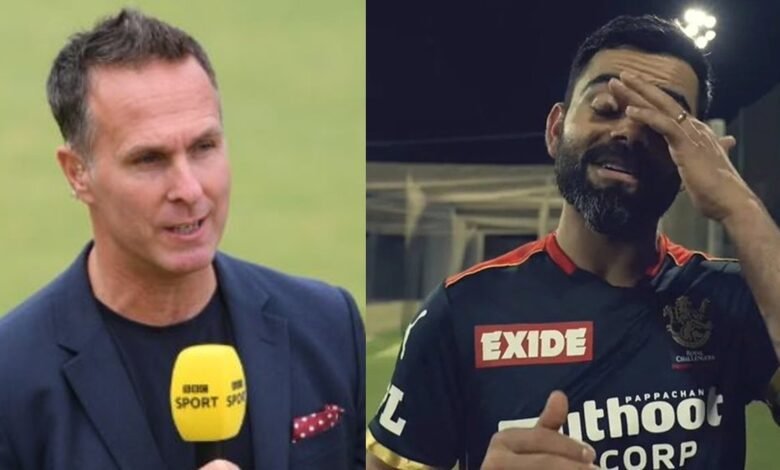 The former England captain Michael Vaughan has said that Virat Kohli will see himself as a failure in IPL captaincy as he didn't win any trophies while being at the helm as the RCB captain for a number of years.
Virat Kohli was first put in charge as the RCB captain in 2012 when he had replaced the Kiwi left-arm spinner Daniel Vettori in the middle of the season and since then, he continued to be in charge of RCB till the end of their campaign this season.
RCB came very close to winning the IPL title under Virat Kohli in 2016
RCB came very close to winning an IPL title under Virat Kohli in 2016. They were chasing a big total in that game and had got off to a brilliant start, but they crumbled towards the end and lost a massive opportunity to win the title.
After that season, RCB's performance went downhill for a couple of seasons, but in the last two seasons, they have put in some very good performances and while they have not gone on to win the title, they have made the playoffs.
However, according to Vaughan, it's about winning the title at the highest level and the kind of personality Kohli is, he wants to win. He is a very ambitious personality. So because of the fact that he has not been able to win it, he will think that he failed as a captain in IPL.
"His legacy as captain in IPL cricket will be one that didn't win. That's what it's about, you know high-level sport is about getting over the line, winning trophies, particularly when you're at the standard of what Virat Kohli is at. I'm certainly not saying that he is, but he will see himself as a failure in IPL captaincy — because he is such a driven player and person," Vaughan said in the post-match show of Cricbuzz.
Kohli, meanwhile, has confirmed that his association with RCB won't end with his resignation from captaincy, as he will continue to serve the team in his capacity as a player.