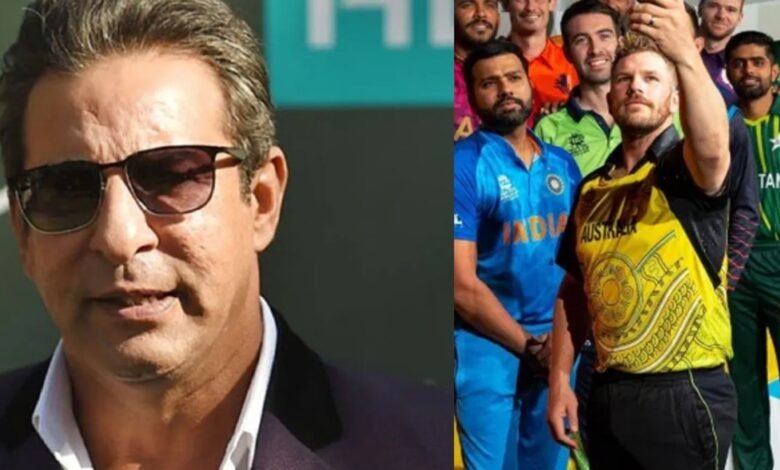 Former Pakistan cricketer Wasim Akram has named his semi-finalists for the T20 World Cup 2022. He said that although India, Pakistan, and Australia are favorites to qualify for the knockout stage South Africa can be the dark horse in the tournament.
"I would like to see is Australia, India and Pakistan," Wasim Akram on semi-finalists for the T20 World Cup 2022 
The T20 World Cup 2022 is giving fans everything to cheer about. Although, the qualifier stage is going on it has been some enthralling contests and a few upsets as well. Sri Lanka, Ireland, and Netherlands so far have qualified for the Super 12 and it gives a clear vision of what's there in the offer and when the next stage of the event will take place.
The Super 12 stage will begin on 22nd October and it'll see some enthralling contests in India vs Pakistan and Australia vs England. With the tournament already off the rollicking start, there are many speculations about who will be the four teams that will qualify for the semi-final.
Wasim Akram "India can't dictate how Pakistan will play cricket. People need to speak to each other. Jay Shah should have convened a meeting where other boards could have shared their views. After all the ACC itself has awarded Pakistan the rights of the Asia Cup" #AsiaCup2023

— Saj Sadiq (@SajSadiqCricket) October 20, 2022
Many fans and pundits have predicted their four teams for the knockout stage. India, Pakistan, England, and Australia are favorites to win the tournament but it's fair to say any team can upset anyone on a given day.
The latest to join the bandwagon is former Pakistani pacer Wasim Akram. Speaking to the media in Dubai, he said:
"For the semifinals, what I would like to see in Australia, India, and Pakistan. But South Africa could be a dark horse." 
Schedule of Super 12 for the T20 World Cup 2022 
Here's the schedule for the Super 12 stage of the T20 World Cup 2022.
| | | |
| --- | --- | --- |
| DATE | MATCH | VENUE |
| October 22nd  | Australia vs New Zealand | SCG, Sydney |
| October 22nd  | England vs Afghanistan | Optus Stadium, Perth |
| October 23rd  | Winner Group A vs Runner-Up Group B | Bellerive Oval, Hobart |
| October 23rd  | India vs Pakistan | MCG, Melbourne |
| October 24th  | Bangladesh vs Runner-Up Group A | Bellerive Oval, Hobart |
| October 24th  | South Africa vs Winner Group B | Bellerive Oval, Hobart |
| October 25th | Australia vs Winner Group A | Optus Stadium, Perth |
| October 26th  | England vs Runner-Up Group B | MCG, Melbourne |
| October 26th  | New Zealand vs Afghanistan | MCG, Melbourne |
| October 27th  | South Africa vs Bangladesh | SCG, Sydney |
| October 27th  | India vs Runner-Up Group A | SCG, Sydney |
| October 28th  | Afghanistan vs Runner-Up Group B | MCG, Melbourne |
| October 28th  | Australia vs England | MCG, Melbourne |
| October 29th   | New Zealand vs Winner Group A | SCG, Sydney |
| October 30th  | Bangladesh vs Winner Group B | The Gabba, Brisbane |
| October 30th  | Pakistan vs Runner-Up Group A | Optus Stadium, Perth |
| October 30th  | India vs South Africa | Optus Stadium, Perth |
| October 31st  | Australia vs Runner-Up Group B | The Gabba, Brisbane |
| November 1st  | Afghanistan vs Winner Group A | The Gabba, Brisbane |
| November 1st  | England vs New Zealand | The Gabba, Brisbane |
| November 2nd  | Winner Group B vs Runner-Up Group A | Adelaide Oval, Adelaide |
| November 2nd  | India vs Bangladesh | Adelaide Oval, Adelaide |
| November 3rd  | Pakistan vs South Africa | SCG, Sydney |
| November 4th  | New Zealand vs Runner-Up Group B | Adelaide Oval, Adelaide |
| November 4th  | Australia vs Afghanistan | Adelaide Oval, Adelaide |
| November 5th  | England vs Winner Group A | SCG, Sydney |
| November 6th  | South Africa vs Runner-Up Group A | Adelaide Oval, Adelaide |
| November 6th  | Pakistan vs Bangladesh | Adelaide Oval, Adelaide |
| November 6th  | India vs Winner Group B | MCG, Melbourne |
| November 9th  | Semi-Final 1 (TBA vs TBA) | SCG, Sydney |
| November 10th  | Semi-Final 2 (TBA vs TBA) | Adelaide Oval, Adelaide |
| November 13th  | Final (TBA)  | MCG, Melbourne |