Australia
cricket
News
Test Cricket
"That's my boy, Fearless," Twitter reacts as Rohit Sharma reportedly unleashes a torrent of sweeps and practices sixes in nets ahead of first Test against Australia
Rohit Sharma is likely to play a crucial role for India in Border-Gavaskar Trophy 2023.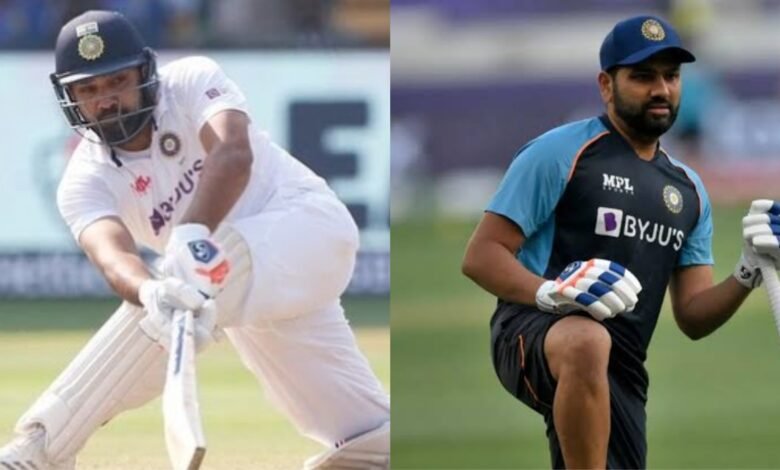 Fans on Twitter reacted to reports which suggested that Indian skipper Rohit Sharma unleashes a torrent of sweeps and practices sixes in nets ahead of the first Test against Australia. While calling him fearless they lauded the batter for his positive intent.
Rohit Sharma reportedly unleashes a torrent of sweeps and practices sixes in nets ahead of first Test against Australia
The countdown for the much anticipated Border-Gavaskar Trophy has begun. The two cricketing heavyweights will clash with each other in the four-match Test series and after the series, we will get the No.1 ranked Test side and most likely the finalists of the World Test Championship.
The Test series between India and Australia will kick start with the Nagpur Test on February 9th. The focus will then shift to the second Test that will be played on 17th February in Delhi. The third game between the teams is slated to take place on 1st March in Dharamshala whereas the last game will be played on 9th March in Ahmedabad.
Both teams are leaving no stone unturned in their preparations and have started their training ahead of the first game. Indian skipper Rohit Sharma has taken the practice to the next session as it is learned according to reports in Indian Express that the right-hander is only practicing sweep shots and reverse sweep mode throughout the session. The reports also suggested that Rohit unleashed a torrent of sweeps and was not looking to keep the ball down. The Indian skipper is practicing Sixes and hitting meatily in the air in Nagpur ahead of Border-Gavaskar Trophy.
Rohit Sharma in the nets only practicing sweep shots and reverse sweep mode throughout the session. He unleashed a torrent of sweeps. He was not looking to keep ball down, he practicing Sixes and hitting meatily in the air in Nagpur ahead of BGT. (According to The Indian Express)

— CricketMAN2 (@ImTanujSingh) February 6, 2023
Fans on Twitter react as Rohit Sharma reportedly unleashes torrent of sweeps and practices sixes in nets ahead of first Test against Australia
As Rohit Sharma reportedly unleashes a torrent of sweeps and practices sixes in nets ahead of the first Test against Australia, fans on Twitter reacted to it. They called him fearless and lauded him for grinding hard yards in nets. Here are some of the reactions:
That's my boy. Fearless https://t.co/rQZPBxaIHL pic.twitter.com/O0AgxCLlN1

— 𝐆𝐞𝐧𝐢𝐮𝐬⁴⁵ (@NewGodOfCricket) February 6, 2023
Guy is all set for breaking our hearts again with his ultra pro max super duper intent approach 😱.

Chad ROHIT SHARMA 😎🔥 https://t.co/nvxOUvQBjz

— 𝐀𝐬𝐡𝐢𝐦. (@RoFiedAsim) February 6, 2023
Tests lo kuda aggressive batting chestav anamata 👀 https://t.co/AdceR0SCoo

— Hitman Pull Shot (@shot_hitman) February 6, 2023
Maybe he is making his sweep more strong as we all know he can do a solid defence…root smashed 200 against india in 1st test in that majority of shots were sweep

— jgjgjgj (@jgjgjgj40408311) February 6, 2023
Sharma wants to counter spin

— Pippo (@SagaSpecs) February 6, 2023
Baz balling hone wala hai

— hombre misterioso (@BeatItJabroni) February 7, 2023
The Monster Mode .

— 𝐂𝐚𝐩𝐭𝐚𝐢𝐧¹⁷¹ (@Captain171_) February 6, 2023
500+ loading for both of themhttps://t.co/Hq7Vg58ehN

— Indian Cricket Fan (@FanofICTforever) February 6, 2023
Hitting vadhu sami plzz 🫤 @ImRo45 https://t.co/D7KxvXNeBL

— Pawanist (@BOBBYPawanist) February 6, 2023
This guy😂😭😭 @ImRo45 https://t.co/0xUbu6shfc

— Monk🇮🇳 (@_2ndSlip) February 6, 2023