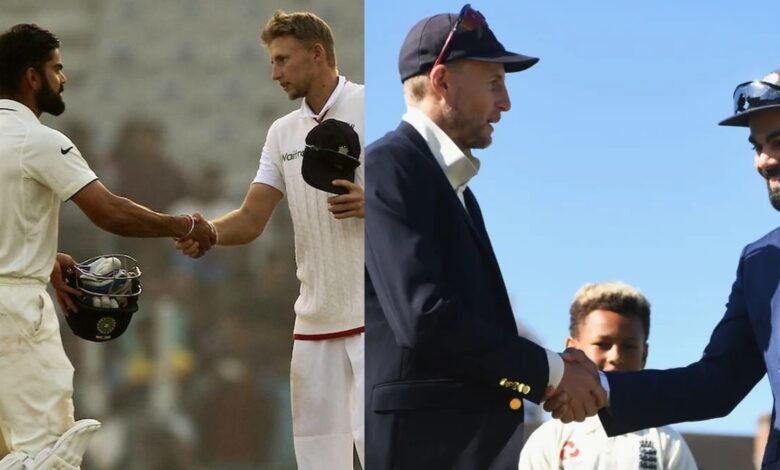 On Saturday, Joe Root stepped down as the captain of the England Test Team. Although the replacement is yet to be announced, it can be confirmed that a different player will lead the team against India this July. In this article, we take a look at an interesting contrast between the start and end of the England vs India Test series pointed out by a Twitter user.
The ending of the England vs India Test series will be different
The England vs India Test series last year started with Virat Kohli and Joe Root at the helm of their respective sides. It was Ravi Shastri and Chris Silverwood who were coaching India and England, respectively. The final game of that series was called off after the Indian camp had a few cases of COVID-19. That match will be held this July to decide the outcome of the series, which India is leading 2-1 at the moment.
However, it will be a completely new setup for both sides in that game. Rohit Sharma and Rahul Dravid will be the coach and captain of India. Likewise, England will also have a change. Paul Collingwood and Ben Stokes will likely take care of England's new-era, although it has not been officially announced, so far. The same was pointed out by a Twitter user. Here is a look at the Tweet:
Series starts with

Root & Virat Captain
Silverwood & Shastri coach

Ending with

Stokes & Rohit Captain
Collingwood & Dravid coach

— Merin Kumar ™ (@merin_kumar) April 15, 2022
A challenge for Joe Root's successor
England is going through a tough phase in Test cricket. They conceded a lead to India last year and also had to suffer an embarrassing loss in the Ashes. The defeat to West Indies was also unexpected. There are very few players stepping up. This is a cause of concern for the team, especially Joe Root's successor. Whoever will replace the outgoing captain will have to brace for a period of uncertainty. This will inevitably happen before bringing his vision to the team.