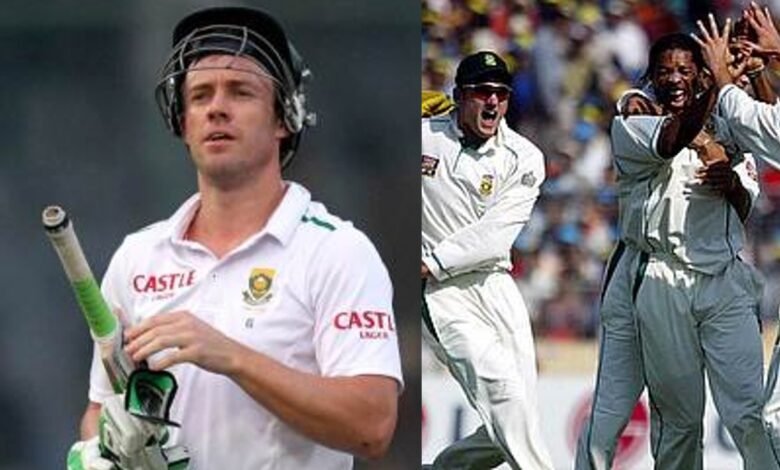 AB de Villiers is regarded as one of the most complete batters that the game has seen. While he broke records by scoring runs quickly, he also saved many Tests for his nation by applying his patience and technique. AB de Villiers scored more than 8000 runs in Tests for his nation at an average above 50. It was in 2004 against England that the talented cricketer made his Test debut at Port Elizabeth. Here, we take a look at South Africa's playing XI when AB de Villiers made his Test Debut.
Openers: Graeme Smith (C) and AB de Villiers
Graeme Smith and de Villiers were the openers in South Africa's playing XI when AB de Villiers made his Test Debut. Appointed as the skipper at a young age, Smith broke a lot of records with the bat and also with the armband. He opened the innings along with ABD, who actually started out his international career as an opener. The debutante scored 42 runs in this game.
Middle-Order: J Rudolph, Boeta Dippenaar, Zander de Bruyn and Thami Tsolekile (WK)
South Africa had a settled middle-order back then. The likes of Jacques Rudolph and Dippenaar played a huge role in that. The duo, combined, played more than 100 games for the nation. Zander de Bruyn also offered a few overs with the bowl but his primary role was with the bat. Mark Boucher did not play in this encounter and it was Tsolekile who kept the wickets.
All-Rounders: J Kallis and Andrew Hall
Jacques Kallis and Andrew Hall were the all-rounders in South Africa's playing XI when AB de Villiers made his Test Debut. Of course, the role of Kallis in South African cricket is very well-known. He was the fulcrum in the middle order for a very long time and also helped the bowlers. Andrew Hall also played around 20 games for South Africa and he picked up two wickets in this encounter.
Bowlers: Shaun Pollock, M Ntini and Dale Steyn
One of the greatest pace attacks featured in this game. While Pollock and Ntini were near their prime, Dale Steyn was then a promising youngster from domestic cricket. In fact, it was also in this game that Steyn made his Test debut. For the next decade or so, both AB de Villiers and Dale Steyn formed a vital part in the Test squad.