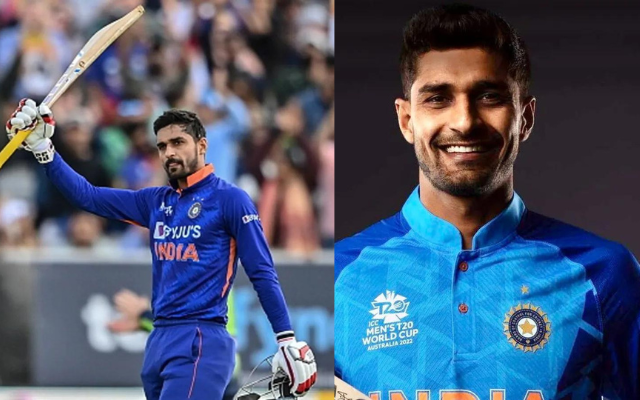 Indian cricketer Deepak Hooda has represented the national cricket team in 8 ODIs, 14 T20Is. He has scored 141 runs in the 50-over format but is yet to make a good impression in this particular format. 
On the other hand, he has been pretty decent in the shortest format of the game, scoring 293 runs at an average of 32.5. He smashed one century to his name against the Ireland cricket team.
As far as his IPL career is concerned, he has played as many as 95 games in the tournament. He aggregated as much as 1236 runs at an average of 20.3 including seven half-centuries to his name.
On the contrary, he has been quite handy in terms of the ball as well. He has accounted for three dismissals in six innings in One-Day Internationals whereas he has taken five wickets in 5 innings in Twenty20 Internationals. 
Deepak Hooda says he can't take No.3 spot and have to be realistic
Meanwhile, Deepak Hooda, while speaking on Prime Video added that he can't take the No.3 spot because there is already a legend who occupied that spot (referring to Virat Kohli). 
He further added that he needs to be realistic as well. "I can't take the number 3 spot, we have a legend in that spot – I have to be realistic," Deepak Hooda adde while speaking on Prime Video. 
Indian all-rounder is currently part of the three-match T20I series against New Zealand. The first T20I was abandoned without a ball being bowled owing to showers and the game ended as a no-result.
The second game ended in favour of Hardik Pandya and Co. Team India got the better of New Zealand by 65 runs in the second game and took a 1-0 lead in the three-match T20I series. 
The third and final T20I is currently being staged at McLean Park, Napier. New Zealand cricket team won the toss and opted to bat first. The hosts scored 55/2 in 8 overs.
Sky, kohli, Iyer, samson all smiling. https://t.co/Quda1uZNNl

— Jaii (@HouseofTi3red) November 22, 2022
Ya he can never match SKY

— ARYAN_OP™ (@ARYAN__OP) November 22, 2022
He said legend. And there is only one legend in Indian team.

— Deepanshu Thakur (@realdpthakur17) November 22, 2022
Sachin replacement = Rohit
Dhoni replacement = every gully
Kohli replacement = error 404 not found

— Tha7a Fan (@ExposeMSDfan) November 22, 2022
If he is talking about SKY then all right 👍
But I think Virat & Rohit both should say Goodbye to T20Is 🙏
That will benefit Vk & Ro as well as Indian cricket team .

— Md Jîsh@ñ (@Jishan9832) November 22, 2022
Hooda is overrated

— Mr Om🌬️ (@MrOm14852020) November 22, 2022
Surya🔥

— 𝙎𝘼𝙈⁰⁷🇦🇷 (@Vitamin_is_back) November 22, 2022
The LEGEND. 🐐#ViratKohli𓃵 #ViratKohli #INDvsNZ #NZvIND #NZvsIND pic.twitter.com/uy5FCZjxp7

— THE ROCKSTAR (@VivJonty) November 22, 2022
Hooda is a very ordinary batter. Try him out against tough teams not Ireland. Only if he can give you 3 overs every game he should play. He can replace Axar or else not required.

— Amit Padmayya (@AmitPadmayya) November 22, 2022