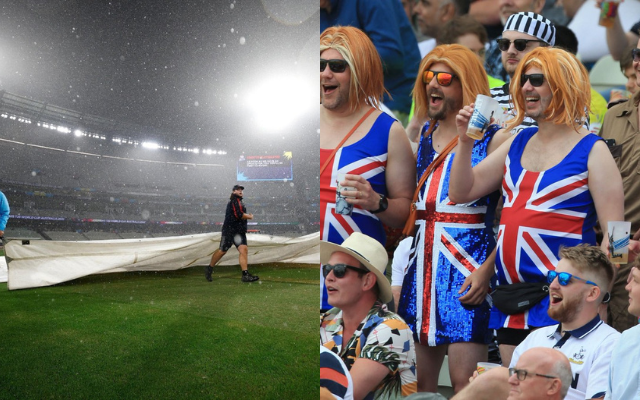 Team India's next encounter in the Twenty20 World Cup 2022 will be on October 27 at Sydney Cricket Ground, and it will be against the Netherlands. India's last match, which they won spectacularly against their fiercest foe Pakistan, was on Sunday.
The Men in Blue are in terrific condition and optimistic following their battle on Sunday, which leads many to believe that the forthcoming match will be a difficult one for the Netherlands to win.
The matches that have taken place in Melbourne thus far have been hampered by the rain, and the Duckworth-Lewis method has been used to determine the winners of several of the matches, which have produced unexpected results.
After having their match stopped owing to the persistent rain, Team Ireland managed to pull off an unexpected victory against Team England. In a similar vein, the Twenty20 World Cup match between South Africa and Zimbabwe that was scheduled to take place on Monday was put off due to several weather delays. The match between New Zealand and Afghanistan that was scheduled to take place in Melbourne was also called off owing to the severe weather.
In contrast to Melbourne, the weather prediction from Accuweather indicates that there is a much lower likelihood of precipitation in Sydney today. On the other hand, it said that there was a possibility of a sudden shift in the meteorological conditions.
According to the forecast from Accuweather, the day is expected to be sunny and somewhat warm. However, there is a chance of rain at the beginning of the first match, which is at 2:00 p.m., according to the weather report (local time).
According to certain other weather predictions, Sydney is likely to see severe rains for a few hours before the match. This might potentially disrupt the match or cause it to start later than scheduled, as stated by many news sources.
England had to suffer a defeat against Ireland, due to lagging behind the D/L score, when the rain stopped play. The Barmy Army was frustrated with it and hence scarcastically called Australia as 'Austrainia'.
Twitter Reacts to what the Barmy Army tweeted:
Irainy 😭

— 18 till the end (@18tilltheend) October 26, 2022
Cry

— Truth (@Fiendragon) October 26, 2022
Loseraining. 🤦

— Himanshu Pareek (@Sports_Himanshu) October 26, 2022
Rainland 😭😭😭😭😭

— Sai Kiran Reddy (@ravulasaikiran) October 26, 2022
hope it stays raining, you guys 5 runs behind

— Anikesh (@anikesh_thakur) October 26, 2022
Not often you will see rain going against England.#youlovetosee

— Unbiased (@HonestCric) October 26, 2022
Haha the new Rainland 💀

— Priyanshu🏏 (@im_Priyanshu_B7) October 26, 2022
Barmy army 🪖 mistake 😂 Australia 🦘

— M.Umar (@Bunni_08) October 26, 2022
Says a rainland 🥲

— Pavithran (@Pavithran_1996) October 26, 2022
Saying this while sitting in Rainland🤦🏽‍♂️

— shaurya (@shaurya1514) October 26, 2022