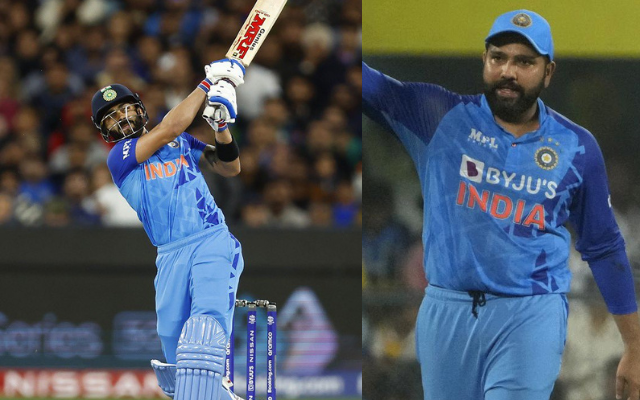 Team India last won the T20 World Cup in the inaugural edition as the glory came under the astute leadership of Mahendra Singh Dhoni. The Men in Blue cruised into the final and got the better of Pakistan in the high-voltage encounter. 
However, since then, the Indians failed to make a bid for the second T20 World Cup title. In fact, they came close to winning the second title but failed to get the better of Sri Lanka in the ICC Men's Twenty20 World Cup 2014 edition. 
Since then, India's performance was lacklustre in the big stages. However, as far as the ongoing eighth edition of the T20 World Cup is concerned, India did manage to solve the puzzles pretty well in the Super 12.
Rohit Sharma and Co literally cracked the code and had answers for all the questions that came their way. As a result, they were able to cruise into the semi-finals of the showpiece event in Australia. 
Ravi Shastri sends a warning to England ahead of the semi-final clash at the Adelaide Oval
Meanwhile, former Indian cricketer, Ravi Shastri has sent a warning to the England cricket team ahead of the second semi-final clash between Rohit Sharma and Co and Jos Buttler and Co. 
Both teams will lock horns with each other on November 10, Thursday at Adelaide Oval in Adelaide. It will be quite interesting to see which team braves the challenges and cruises into the final.
Ravi Shastri is of the opinion that Rohit Sharma and Virat Kohli would perform well in big stages of the game. He added that the cricket fraternity should watch out for both the stalwarts in big stages. Shastri reckons that both batters will come out on top in big stages of the tournament.
Twitter Reacts:
Sneaked in Hittu

— Aniket🏴󠁧󠁢󠁥󠁮󠁧󠁿 (@80off59) November 9, 2022
Hitman is going to make a comeback

— Sohail. (@iamsohail__1) November 9, 2022
Shamelessly sneaked Rohit in 😭

— ; (@AIH183no) November 9, 2022
I think you were cleaning streets in Mumbai in 2016 and 2014.

— Fan Of YouAreWrong❤️🐾 (@fan_of_huihui__) November 9, 2022
Rohit pic.twitter.com/cFDnjUc4KU

— JC (@JayC1718) November 9, 2022
Virat Kohli and SKY.

— Player of the Decade 👑 (@vk18_GOAT) November 9, 2022
Added virat just to sneak non performing sharma to look relevant

— 1992pakishere (@swapcasm7) November 9, 2022
Yes Virat Kohli has 2 100s in ICC knockouts whereas Choker Rohit Sharma has 0😪😪

— Kartik (@Rohit4everr) November 9, 2022
Ravi bhai aap bhi dugout mai hi thy 2017,19,21 mai kyu juthi tassali dere hai khudko

— π (@genwiine) November 9, 2022
Hope so. Please don't repeat champions trophy final

— 👑 KOHLI (@ViratSh31838365) November 9, 2022