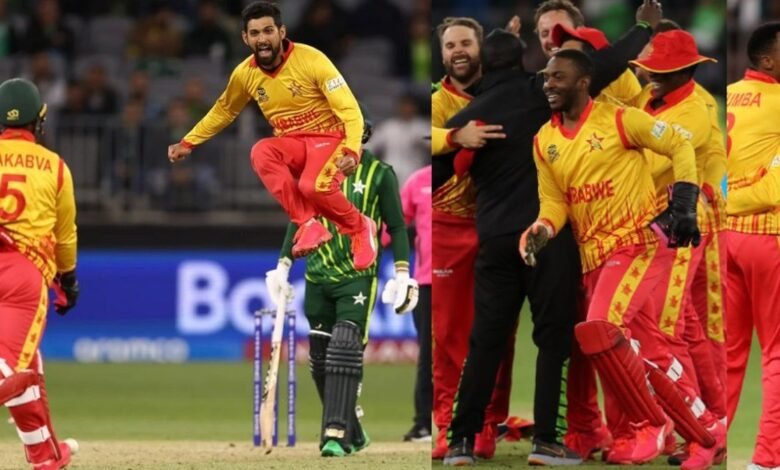 Fans on Twitter reacted after Zimbabwe pounded Pakistan by 1 run in T20 World Cup 2022 clash at Perth. They took a dig at the Babar Azam-led side for suffering a loss against the low-ranked side. Calling the game the real El-Classico, they praised Zimbabwe for their superlative effort.
Zimbabwe thumps Pakistan by 1 run in Perth 
In what was a massive upset, Zimbabwe thumped Pakistan by 1 run in Perth to dent the chances of the Babar Azam-led side. Opting to bat first, Zimbabwe went off the flyer as they took the opposition bowlers to the cleaners and scored 42 runs for the opening partnership as Wesley Madhevere (17) and Craig Ervine (19) batted beautifully.
But after that Pakistani bowlers came on the top and reduced the batting team to 95/7. A crucial knock of 31 runs by Sean Williams and a finish by Ryan Burl (10*) and Brad Evans (19) powered Zimbabwe to a total of 130/8. For Pakistan, it was Mohammad Wasim Jr and Shahdab Khan who took 7 wickets between them to help their side end the innings on high.
Chasing the target, Pakistan never got going as they lost both Babar Azam (4) and Mohammad Rizwan (14) and Iftikhar Ahmed (5) early as they found themselves tumbling at 23/2. But after that Shan Masood (44) and Shadab Khan (17) stitched a crucial partnership and steadied the ship.
But after that, they faced a collapse and were reduced from 88/3 to 94/6. Mohammad Nawaz (22) and Mohammad Wasim Jr (12*) tried hard in the end but Zimbabwe pacers held their nerves well and took their team across the line. Sikandar Raza was the pick of the bowlers as he returned with the figures of 3/25.
Fans on Twitter react as Zimbabwe clinches 1-run win against Pakistan 
As Pakistan suffered a 1-run defeat against Pakistan, fans on Twitter trolled them for losing against the low-ranked teams. Twitterati also praised Zimbabwe for its heroics. Here are some of the reactions:\
Real el clasico of cricket#ZIMvsPAK #T20worldcup pic.twitter.com/H2Hg3ADap3

— Saurav Anand (@imSauravAnand07) October 27, 2022
Zimbabwe won in the "Bean rivalry". pic.twitter.com/Yesa7RoQVz

— Johns. (@CricCrazyJohns) October 27, 2022
Got to feel for Pakistan fans. They get taken on a roller coaster everyday. But it isn't all over yet.

— Harsha Bhogle (@bhogleharsha) October 27, 2022
ZIMBABWE HAVE DONE IT… THEY'VE DEFEATED PAKISTAN!

— Mufaddal Vohra (@mufaddal_vohra) October 27, 2022
Zimbabwe captain Craig Ervine said, "we did lots of hardwork, this is a special win for us".

— Mufaddal Vohra (@mufaddal_vohra) October 27, 2022
Babar Azam just couldn't believe what happened.

Courtesy – Zimbabwe! pic.twitter.com/d41VaMAA1B

— Mufaddal Vohra (@mufaddal_vohra) October 27, 2022
Pakistan losing is my source of happiness. I love seeing their fans cry. It's my daily medicine, my weekly energy, my monthly inspiration and my yearly motivation. Them loss is the only reason i'm still alive. I was born to love and enjoy that, long may it continue.

— 🥷° (@omg_bro_wtf) October 27, 2022
That's it !!😳🔥 that's why we called it 𝗔𝘀𝗵𝗲𝘀🔥 pic.twitter.com/aVBotMMl9G

— 𝗦𝗔𝗠¹⁷🇦🇷 (@Vitamin_is_back) October 27, 2022
let's take a moment and appreciate pak crkt team… at least they making every game exciting… not like India making matches dead and one sided just like 36 all-out….. 😭😭🤣🤣🤣🤣🤣🤣🤣

— Haider Ali Khan (@haideralikhanOP) October 27, 2022
— फिलासफर©™ (@batldy007) October 27, 2022
Now i can understand the pain indians suffered after getting out of the tournament after losing just 2 matches last year😭😭😭

— Emaan Fatima (@AishaBilal36117) October 27, 2022
Pakistan out of tournment ?

— KARTHICK (@mkiiam) October 27, 2022
Mood Rn;-pic.twitter.com/y7DFRbTvjK

— Savage Replies/Pak Bean Revenge (@savage_replies_) October 27, 2022
And the Countdown begins pic.twitter.com/pdd3BqTUUF

— S ∆ C H I | 🇮🇳 (@fadesachi06) October 27, 2022
Congrats Team @ZimCricketv 🥳🥳 well played guys , Congrats team @TheRealPCB too for Karachi Airport ✈️ , Amazing Batting by Zimbabar well played @babarazam258 pic.twitter.com/ArEX6377TO

— Harsha (@Harsha94421717) October 27, 2022
— Priy S (@imPriyS) October 27, 2022
King ❤ pic.twitter.com/pOImfAJgr0

— Troll Cricket (@ExtraCover07) October 27, 2022
Let's laugh at Pakistan, I'll start🤣🤣🤣🤣🤣
Asia's best team una🤣🤣🤣🤣

— Bakri Player (@cric_nerd2) October 27, 2022
Zimbabwe and India right now enjoying Pakistan defeat pic.twitter.com/KMA2SxNgPp

— the different man (@sss111ind1) October 27, 2022
— 🖤 (@prayas_sused) October 27, 2022
Use this as laughing button for Pakistan 😂🤣😂🤣😂😂🤣🤣😂🤣🤣😂😂😂😂😂😂😂😂

And appreciation button for Zimbabwe 👏👏👏👏👏👏👏👏👏👏👏

— HeyYa (@I_say_factos) October 27, 2022
Zim to pak pic.twitter.com/PmFPRg3qI8

— SANKET (@___sanket__) October 27, 2022
Zim vs Pak > Ind vs Pak

— England's Barmy Army (@TheBarmyArmy) October 27, 2022
When Zimbabwe ask for Mr. Bean, you give them Mr. Bean. This Pak Bean revenge has been taken. Congratulations! #PAKvsZIM

— Danish Sait (@DanishSait) October 27, 2022
Memorable commentary. pic.twitter.com/atBPNbx6hx

— Johns. (@CricCrazyJohns) October 27, 2022
Nawaz has bottled it again for Pakistan. Time for episode 2 of this. 😭 pic.twitter.com/v71hWNpb87

— Silly Point (@FarziCricketer) October 27, 2022
What a shocker 😱

— Wasim Akram (@wasimakramlive) October 27, 2022