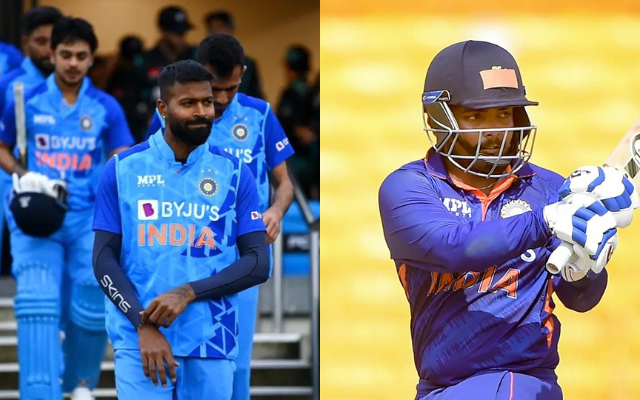 Rohit Sharma is the skipper of the Indian national cricket team across all formats of the game. In the aftermath of India's exit from the ICC Twenty20 World Cup 2022 in Australia, reports were rife that the BCCI is considering a split captaincy.
The possibility of having Hardik Pandya as captain in T20Is and Rohit Sharma as the captain for ODIs and T20Is was on the cards and so far, nothing such has been confirmed yet by India's governing body. 
Rohit Sharma was rested for India's tour of New Zealand, which provided a window of opportunity for Hardik Pandya to lead the T20I set-up against the Black Caps recently. 
However, under his captaincy, India won the T20I series by 1-0. Shikhar Dhawan was named the acting captain for the ODI set-up where the first game ended in New Zealand's favour and the second game was abandoned due to rain. 
Gautam Gambhir picks Hardik Pandya and Prithvi Shaw as the choices for future India captain
Meanwhile, former Indian cricketer, Gautam Gambhir strongly believes that the likes of Hardik Pandya and Prithvi Shaw are the ideal choices for future Indian skipper. 
Hardik Pandya has already proved his worth in the captaincy for India. The all-rounder led the team by example as a captain and also delivered the goods as a batsman for the team. 
Besides that, he has also been helping the team with the ball. Under his captaincy, India piled up a 2-0 T20I series win over Ireland earlier this year and also won the T20I series against New Zealand recently. 
On the other hand, Hardik Pandya played a spectacular role for Gujarat Titans in the last edition of the Indian Premier League. Under his captaincy, GT franchise made it all the way to the finals and outsmarted Rajasthan Royals in the high-voltage clash. Prithvi Shaw has also shown pretty good leadership qualities in domestic cricket.
Twitter Reacts:
Gambir shut ur mouth Shaw 🤣🤣🤣 https://t.co/3O5Eobf52p

— Sai Prakash (@jollyPrak16691) November 28, 2022
Shaw for captain, bhai usko pehle match toh khelne de 😭 https://t.co/0tAZthTrsc

— Navleen Kaur (@NavleenSpeaks) November 28, 2022
Prithvi Shaw? On what grounds? https://t.co/Cevp0xzkLf

— Don Pablo (@BhokalTweet) November 28, 2022
Prithivi Shaw doesn't hav proper technique
Which can improve

Hardik Pandya at max. has 5 more years left in International cricket

Probably Gill can be another option
if he adapts new form of Cricket sooner https://t.co/upClCOLVHr

— ♥️ Kittu ♥️ (@FriendlyDude03) November 28, 2022
Prithvi Shaw squad mai toh aa nai paa raha
Captain ki baat karta hai https://t.co/CJ4KYVpYlW

— Priyanshu Gupta (@cricwithprynshu) November 28, 2022
This is just not weed overdose this is proper at least 6 months in rehabilitation sort of a thing. https://t.co/oZ0UKM5Zyb

— 🇦🇷🇦🇷🇦🇷🇦🇷 (@Vihaaann) November 28, 2022
Wow, #PrthiviShaw is an interesting choice!! Here is a guy who has been performing well in domestic cricket, did 'okay' in International matches, is questioned over fitness, faced action for doping violation. Not many wud've picked him as future #India captain!! https://t.co/YCUwsORNei

— Langda Tyagi 🇮🇳 (@BlackRumAndCoke) November 28, 2022
Temba Bavuma Lite – Prithvi Shaw https://t.co/Ud7UHoKza3

— 𓀠 🇮🇳 (@SRKsABHI) November 28, 2022