cricket
News
"Not a single tweet about Jaggi scoring 200, what is this CSK?" Fan not happy with CSK twitter admin as admin posts about Tamil Nadu scoring 500, but doesn't mention Jagadeesan's double hundred
Jagadeesan scored 277 runs against Arunachal Pradesh which is the highest individual score by any batsman in the history of List A cricket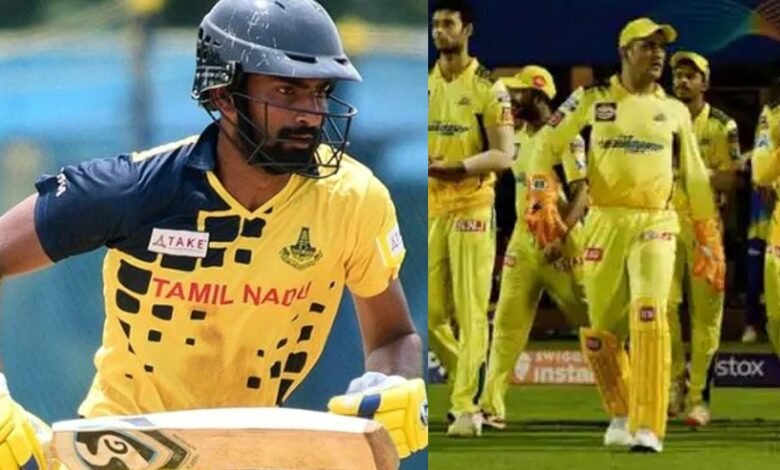 Today it was a record-breaking day for Tamil Nadu cricket. Not only their opening wicketkeeper-batsman Narayan Jagadeesan posted the highest-ever individual score in List A cricket, Tamil Nadu as a team created history as well, as they became the first-ever team in the world to score 500 in a List A innings.
The match took place between Tamil Nadu and Arunachal Pradesh earlier today at the Chinnaswamy Stadium, which is a high-scoring ground anyway, but the fact that the Arunachal bowlers were very inexperienced, both TN openers Jagadeesan and Sai Sudharsan took full toll on them.
However, even though TN got off to a flier of a start, it didn't seem to anyone that they would actually be able to breach the 500-run mark, despite the inexperienced bowling attack they were facing. But, as it turned out, the onslaught didn't stop at any stage at all.
Tamil Nadu openers just kept attacking Arunachal's bowling
TN openers just kept attacking the Arunachal bowling right throughout the innings and when the opening partnership broke at over 400-run mark, the other TN batsmen, who walked in, also continued with the same momentum as TN eventually managed to cross the 500-run mark with quite some ease.
However, one Tamil Nadu fan complained to Chennai Super Kings' twitter admin, when the admin posted about Tamil Nadu's score of 500, but didn't post about Jagadeesan's knock of 277, which was a major contribution in the team score.
Jagadeesan has actually been let go by CSK ahead of the next IPL mini auction, as he was not able to impress the team management in a few games he played in the last two IPL seasons. Jagadeesan's strike rate was one of the major factors why he was let go by CSK, but he is showing the other side of his game in the ongoing Vijay Hazare trophy.
Here are the twitter reactions of the fans on the record breaking day of Tamil Nadu cricket –
Tamil Nadu becomes the 1st team to score a 500+ total in a List A game at the Vijay Hazare Trophy #VijayHazareTrophy #VHT

— Gargi Raut (@gargiraut15) November 21, 2022
Tamil Nadu Finishes with 506/2 in the end. Historic day. First ever team to cross 500 runs in list a cricket with jagadeesan becoming the player with highest list a score.

— Square Drive (@SQD05) November 21, 2022
RECORD ALERT: Tamil Nadu has become the FIRST TEAM EVER to score 500 in a List-A Cricket Game.

N Jagadeesan has also scored tje Highest Individual Score in List-A Cricket – 277.#VijayHazareTrophy

— Israr Ahmed Hashmi (@IamIsrarHashmi) November 21, 2022
2022 witnesses the highest score in a List A inning broke twice.

First 🏴󠁧󠁢󠁥󠁮󠁧󠁿 scored 498-4 against the 🇳🇱.

Today, Tamil Nadu goes ahead to breach the 500 mark and scored 506-2.

50 overs format is dying but how much effort is being put into marketing it. #crickettwitter

— Arpit Rastogi | Cricket (@arptrastogi) November 21, 2022
History: Tamil Nadu becomes the first team ever to score 500 runs in a List A match.

— Johns. (@CricCrazyJohns) November 21, 2022
Cricketing possibilities have been extended. Tamil Nadu becomes the first team to score 500 (!) in List A cricket.

500/2 in 49.1 overs

Feel for Arunachal Pradesh. Not fair to win the toss, bowl and be subjected to such a hammering on a Monday 😅

— Lalith Kalidas (@lal__kal) November 21, 2022
It's not England! The first-ever 500 score in 50 over is here, and it's Tamil Nadu who have achieved it. pic.twitter.com/IizgogjcC2

— Omkar Mankame (@Oam_16) November 21, 2022
Not a single tweet about Jaggi scoring 200 what is this CSK ? This team is only for 40 year old players?

— only cricket (@rr3815126) November 21, 2022