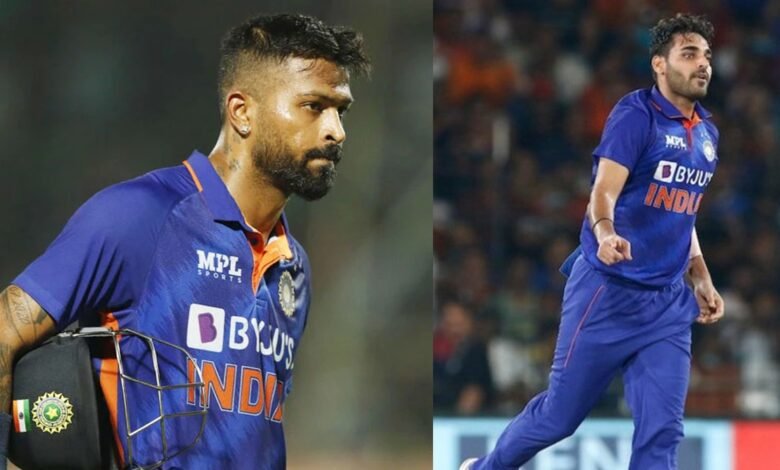 The two-match T20I series between the Indian cricket team and the Ireland cricket team started yesterday in Dublin with a 12-overs-a-side match. Due to rain delay, eight overs were cut from both innings. Hardik Pandya won his first toss as the Indian captain and decided to bowl first in Dublin. Vice-captain Bhuvneshwar Kumar opened the bowling and bowled a wicket maiden up front.
Kumar bowled three overs in the match and conceded only 16 runs at an economy rate of fewer than six runs per over. He started the match in style by rattling the stumps of opposition team skipper Andy Balbirnie in the first over itself. He did not allow any runs from the bat in the first over.
Hardik Pandya rotated his bowlers well in the 12-over contest. Only two bowlers were allowed to bowl a maximum of three overs, and the captain gave the three over spells to Bhuvneshwar Kumar and Yuzvendra Chahal, where they picked up two wickets and conceded only 27 runs.
Speaking at the post-match press conference, Hardik heaped praise on Kumar and said:
"Obviously, everyone knows what sort of caliber Bhuvi (Bhuvneshwar Kumar) has as a bowler… as we say, always comes in and does the same thing over and over again. But at times flies under the carpet because nobody talks too much (about him)."
Bhuvneshwar Kumar deserves a lot of respect: Hardik Pandya
During the same press conference, Hardik Pandya added that because of his supreme consistency in the shortest format of the game, a player like Bhuvneshwar Kumar deserves a lot of respect. Here's what Hardik added:
"But if you look back, the performances that he has given, the consistency with which he has performed, he demands a lot of respect, and actually he deserves it."
The second T20I of the series will take place on Tuesday, with India looking to complete a 2-0 series win over the hosts.