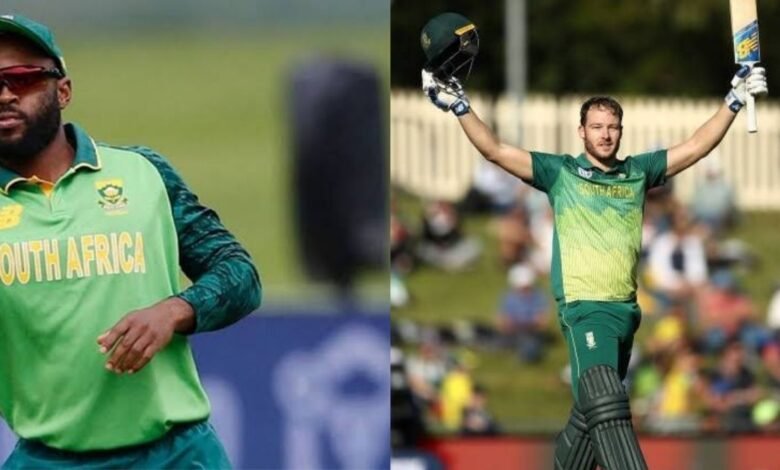 South Africa lost to the Netherlands on Sunday. With this loss, their T20 World Cup journey is all but over. On that note, here, we take a look as Twitter reacts as fans want Temba Bavuma to be removed from the South Africa T20I Team.
South Africa underperform at the wrong time
The Proteas had already performed well in the previous encounters. They just needed a win against the Netherlands to confirm their spot in the semis. Considering the Dutch squad was less experienced, South Africa was backed to do the job.
However, that did not happen. Although the bowlers were decent, the batters had a rough day at the office. Under pressure, they wilted and in a matter of a few minutes, South Africa lost their way in the game. With them not having a great depth in batting, they lost out on the chance to chase the score.
Temba Bavuma could be shown the door from South Africa T20 squad
The presence of Temba Bavuma in the T20I squad has been a debate for a very long time. Moreover, as the skipper of the squad, Bavuma's place was not at all justified. The player hardly scored runs in 2022 and whenever he did score, it came at a poor strike rate. This continued in the T20 World Cup, as well. Now that South Africa might get knocked out of the T20 World Cup in a short while, fans are already looking at what the Proteas can do next. It needs to be noted that South Africa actually has great options to replace Bavuma. While Reeza Hendricks is already available, Janneman Malan is also an option. Of course, Dewald Brevis will anyways come into the XI in a few months going by his current form. Here is how Twitter reacted to Bavuma and his performance in the T20 World Cup:
Make Miller captain and bavuma should be replace by Hendricks or J malan. Bavumq is not a T20 player

— Kavipranesh0107 (@kavipranesh0107) November 6, 2022
Plenty, plenty of questions for Temba Bavuma. A couple of seniors have not stepped up at all for them. Their batting was thin and the bowling didn't step up on the day it was expected of them to get the job done. Let's see how time flies in the Rainbow nation.

— Nikhil 🏏 (@CricCrazyNIKS) November 6, 2022
Dewald Brevis era in South Africa cricket after this T20 World Cup. Thank you Bavuma.

— R A T N I S H (@LoyalSachinFan) November 6, 2022
This is what you get in return when you make Bavuma your T20 Captain.

South Africa were never serious about T20.

— Karan (@karannpatelll) November 6, 2022
Bavuma to SA fans who want to watch Pakistan vs Bangladesh pic.twitter.com/7VrTRc514k

— Saahil Sharma (@faahil) November 6, 2022
Gaddar bavuma 😠 pic.twitter.com/vICJDTyhSd

— Desi Bhayo (@desi_bhayo88) November 6, 2022
Temba Bavuma and South Africa should retire from Cricket

— Sunil the Cricketer (@1sInto2s) November 6, 2022
I know there have been people who have defended Bavuma's place in the team, and he isn't the only reason for their loss today, but he doesn't deserve to be in this side, with all the talent SA have #SAvNED #T20WorldCup

— Hemant (@hemantbuch) November 6, 2022