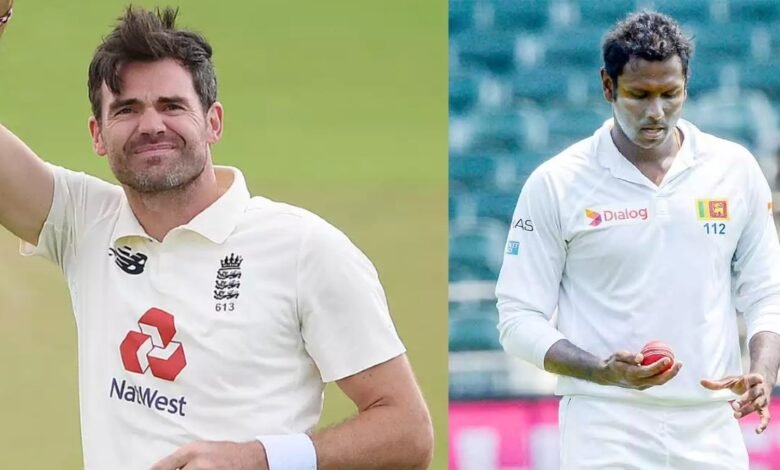 The Sri Lankan allrounder Angelo Mathews, who will play the 100th test match of his career against Pakistan at Galle, has said that he looks up to the veteran England fast bowler James Anderson when it comes to longevity in the game.
According to Angelo Mathews, Anderson is 40 years of age at the moment and he recently said that he wouldn't mind playing for a couple of more years. That shows what kind of drive he has for the game of cricket and especially for the longest format of the game. It should be inspiring everyone.
Mathews hinted that he has no plans of retiring at the moment and he intends to give his 100% for Sri Lanka in all three formats of the game whenever he gets an opportunity. The 35-year-old, however, said that test cricket is his favorite format and he would like to play as much Test cricket as possible going into the future.
I hope SLC arranges a few more test matches: Angelo Mathews
Sri Lanka is scheduled to play just 7 test matches in the next one and half years as per the scheduling of the World Test Championship (WTC), but Mathews is hopeful that Sri Lanka Cricket (SLC) will try and arrange a few more test matches for the national team outside WTC.
The Sri Lankan captain Dimuth Karunaratne also addressed the press ahead of the 100th test match of Angelo Mathews, with whom he has played a lot of cricket, and said that the whole team wants to make the occasion memorable for Mathews by winning the test match.
Sri Lanka had lost the first test match against Pakistan at Galle from a commanding position. They had set a target of 342 runs for Pakistan in the 4th innings and were firm favorites at that stage, but Pakistan pulled off the biggest ever chase at Galle to go 1-0 up in the series.