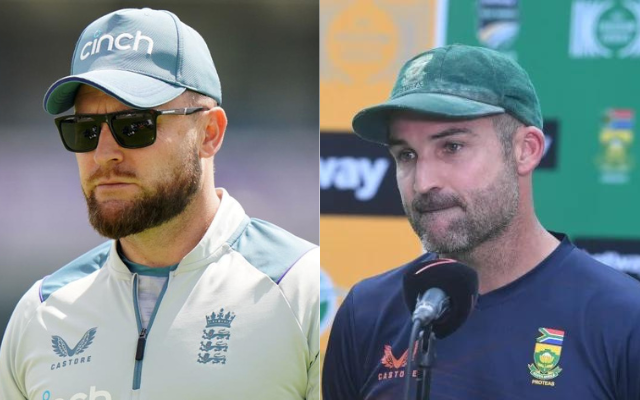 Dean Elgar, the captain of South Africa's cricket team, is aware of the potential danger presented by England's novel tactic in test matches, known as the "Bazball," but he has disclosed that he is not very worried about it.
During England's home summer stretch, which included matches against New Zealand and India, the team used a new playstyle in which they attempted to chase down targets that were more than 250. On the other hand, Elgar was completely unaffected in advance of the first test, which will commence on August 17.
Dean Elgar sweating it out in the nets

Watch Cricket South Africa's extended training session on OneCricket youtube: https://t.co/zknZ80ecgZ#CSA #SouthAfrica #engvssa #Cricket pic.twitter.com/9smtwWTN1o

— OneCricket (@OneCricketApp) August 9, 2022
What did Dean Elgar say?
"I'm happy for them. They have certainly staked some of their future on a few different wagers along the line, and it has paid off. Concerning the manner of cricket that was being played, I believe that the circumstances had a significant impact. The manner in which they have been playing of late does not cause me a great deal of anxiety," said Dean Elgar.
Dean Elgar believes that Temba Bavuma's injury has been a major setback for Cricket South Africa in all formats

Watch extended PC on OneCricket youtube channel: https://t.co/g3pug4pHgF#Cricket #CricketTwitter #SouthAfrica #CSA #proteas pic.twitter.com/Jco7KvcioE

— OneCricket (@OneCricketApp) August 8, 2022
Elgar was quoted in the Daily Maverick, a newspaper published in South Africa, as saying, "I'm not too bothered about that. It's been an unusual style and has sparked a few discussions across the globe about the manner in which they've been playing."
The players, under Elgar's direction, are anxious to get the tour off to a strong start and make sure they don't go behind in the series. In addition to being crucial for their prospects in the WTC 2021-23 cycle, the three-match Test series against England is also important.
"I am aware of how critical it is to get off to a strong start while competing against a formidable opponent in their environment. The conversations are still going on, and I anticipate that they won't end as long as I'm around to keep them going. I have a responsibility to make those players aware of it, and the coaches have already made the players aware of it once again," Elgar added.