News
ICC umpire banned from officiating in T20 World Cup due to bio bubble breach
Michael Gough has been the top ICC umpire in the last few years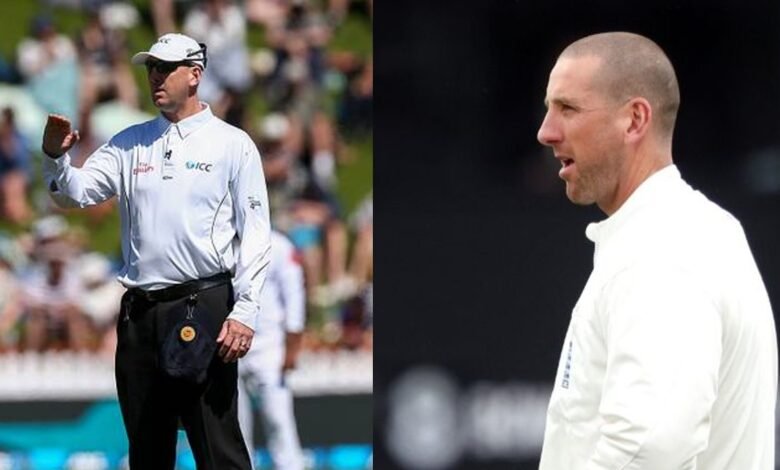 ICC umpire Michael Gough has been taken out of the ongoing T20 World Cup after he breached the guidelines issued to the ICC officials about the places they can go to while being in the bio bubble created by the ICC.
It has been confirmed that Gough left his hotel and went to meet some people at a place that was not within the bubble created by the ICC and as soon as ICC Umpires got to know about it, Gough's further assignments in the World Cup got cancelled straight away.
Michael Gough has been the best ICC umpire in the last few years and has been extremely efficient with his on-field decisions. Very few of the decisions he has given on field in the recent times have been changed by the television umpire whenever the players have used DRS against him.
Michael Gough would have officiated in the India Vs New Zealand game if not for the bubble breach
Gough was going to be one of the on-field umpires in the much anticipated India Vs New Zealand game as well which was almost a virtual quarter-final game in group 2, but he didn't eventually take the field for that game and later, ICC issued the statement that he has been suspended.
ICC, however, in their official statement, was not too harsh on Gough and completely acknowledged the fact that Gough, along with the other ICC officials, have put in a tremendous effort in the last couple of years to spend so much time in the bio bubble and still officiate matches with extraordinary efficiency.
But, given the kind of tournament T20 World Cup is and the number of teams that are taking part in it, ICC can't take any risk with an umpire who breached the bio bubble.
Gough is currently in quarantine in his hotel, where he will have to spend 6 days before he gets tested for COVID twice and then given clearance to be on his flight to UK. It's probably a bit of a blow for ICC that their best umpire won't be officiating in any further games in this T20 World Cup.