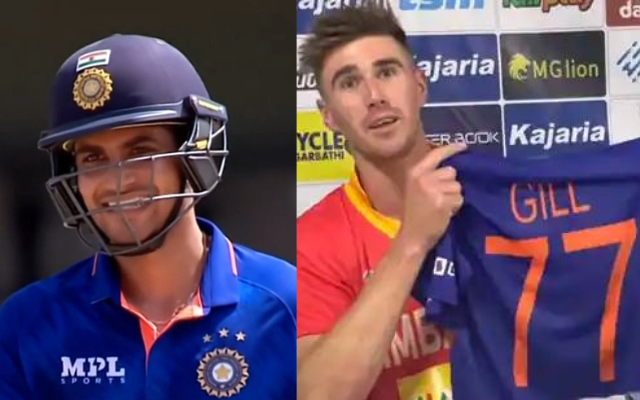 Brad Evans has expressed his admiration for Shubman Gill, the rising star for Team India. Evans approached Gill after the game and politely requested his jersey, which Gill graciously gave to Evans as a memento of the experience.
Another great One-Day International series was enjoyed by the Indian batsman, who scored 245 runs over the course of three games against Zimbabwe at an incredible average of 122.50. In addition, he reached his first hundred for the national team in the third one-day international that took place on August 22.
What did Brad Evans say about Shubman Gill?
After the match, Evans gave an interview to journalist Vimal Kumar, in which he discussed his appreciation for Gill and the reasons why he is such a major admirer of the Indian batsman's batting.
He said: "Yes, without a doubt (Gill was crucial in deciding the series). I was one of his greatest supporters going into the series, which is why I asked for his jersey, even though we are going to be competing against each other. He is a player of the highest calibre."
Evans also remembered Gill's first fifty in a test match, which took place in Sydney, as well as that magnificent 91 at the Gabba in Australia the previous year. In response to this question, the Zimbabwean cricketer stated:
"Even from the very first game, it was quite clear that… For instance, if he gets a single, he makes sure to smash it hard and just where he wants to hit it. This is a talent that can only be acquired via many years of dedicated practice."
He proceeded by saying: "Just sometimes, I find myself staring at him in wonder and thinking, "This man is amazing." That is one of the reasons why I am a fan. I saw him play in the Indian Premier League (IPL) and lead India to victory in the Test series against Australia."