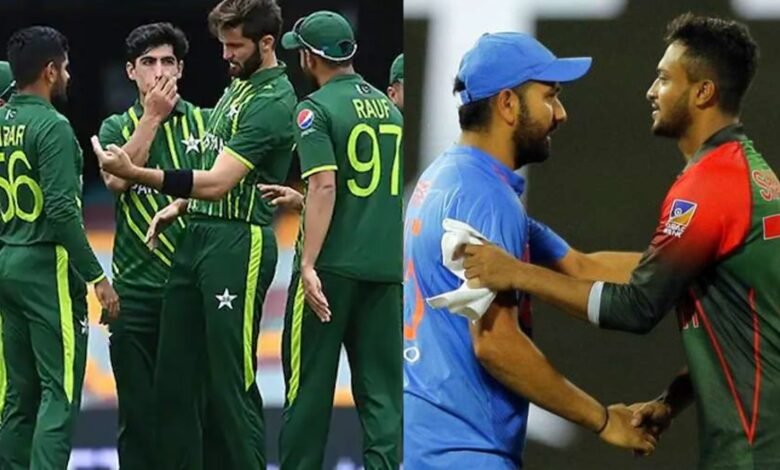 Pakistan fans on Twitter were optimistic about their team qualifying for the semi-final of the T20 World Cup 2022. They said that they feel that Bangladesh will beat India and their chances will open to go ahead into the knockout stage.
Pakistan is dependent on other teams to qualify for the semi-final 
Pakistan has found itself in the middle of nowhere. Things are not going well for them in the ongoing T20 World Cup 2022. Their chances to qualify for the semi-finals have almost dented and they are now dependent on the other results to go their way.
They started their campaign with a disappointing 5-wicket loss against arch-rivals India in Melbourne. It was expected that they would come out all guns blazing after that loss.
But it didn't turn out to be as they suffered an upset for ages. The Babar Azam-led side was at the receiving end of a 1-run thumping at the hands of Zimbabwe, who played a staggering brand of cricket to outshine Pakistan in all three departments.
The Babar Azam-led side then finally managed a win when they pounded the Netherlands. They now need to win all their games and would be hoping that Bangladesh beat India so that things get easy for them.
India is slated to face Bangladesh on 2nd November in Adelaide. A win for them will almost certainly their place in the semi-final and will almost end the chances of Pakistan in the event.
Pakistani Fans on Twitter optimistic about Bangladesh beating India 
As India is all set to face Bangladesh, Pakistan fans on Twitter were optimistic about the Shakib Al Hasan-led side thumping Men in Blue. Here are some of the reactions:
Heart says Netherlands will defeat Zimbabwe, Bangladesh will defeat India & Pakistan will win its next 2 matches.

Brain says bye bye world cup 2022

— Ali Raza (@aliraza_ca) November 2, 2022
Heart says pakistan 🇵🇰 will be in the semifinal
Brain says pakistan 🇵🇰 will be in the semifinal

— m ijaz ahmad (@mijazahmad60) November 2, 2022
Heart says 🇵🇰 will make it to Semi Finals ❤️

Brain says stop thinking rubbish, 🇵🇰 doesn't deserve to be in the next round!! 🤬🤬

— Pakistani🇵🇰 (@naeemb87) November 2, 2022
Heart says Pakistan
Brain says Pakistan

Le brain figuring out Pakistan chances: pic.twitter.com/CiRvYmJaqB

— Babar Shah (@shezanmangopapi) November 2, 2022
Heart says Pakistan
Brain says England

— Fahad Mehboob Abasi⁦🇵🇰⁩ (@IamFahadAbasi) November 2, 2022
Heart Say Pakistan
Brain says South Africa

— Malik Essa (@MalikEsssa) November 2, 2022
Heart says Pakistan
Brain says England

— Malik Muhammad TAQI (@Maliktaqijwad) November 2, 2022
Heart says: chances of Pakistan 🫡
Brain says: SA vs Eng

— Asim Official (@SSG56813078) November 2, 2022
Heart says Pakistan
Brain says Bangladesh

First to airport 🌟😌

— Jing Jing 🖤🏴‍☠️ (@balloonmolly92) November 2, 2022
Heart says Pakistan which seems irrelevant now
Brain says England

— Waleed Qayyum (@WaleedQayyum11) November 2, 2022
Australia or New Zealand & if Pakistan qualifies by chance then Pakistan 🇵🇰🤍

— AaYan ALi (@aaYanO8) November 2, 2022
Heart says _______ Pakistan
Brain says ______ England

— Pakistani (@M_WaqasSameer) November 2, 2022
Heart says Pakistan
Brain says india

— Pop Culture (@popculture614) November 2, 2022
Heart says: Pakistan.
Brain says: Pakistan has a chance.

— Niazi Mujahid Khan (@NiaziMujahid) November 2, 2022
heart pakistan
brain india

— saad raheel (@saadraheel18) November 2, 2022
Heart says = Pakistan 🇵🇰 😭😭😭

Brain says = New Zealand 🌸

— Sidra PCTfan🇵🇰 (@SidCricketlover) November 2, 2022
Heart says 🇵🇰 will make it to Semi Finals ❤️

Brain says stop thinking rubbish, 🇵🇰 doesn't deserve to be in the next round!! 🤬🤬

— Pakistani🇵🇰 (@naeemb87) November 2, 2022
Heart says Bangladesh ( I know it sounds ridiculous but still)

Brain says either New Zealand or South Africa

— Hulk 🇧🇩🇵🇸 (@Bengalidude) November 2, 2022