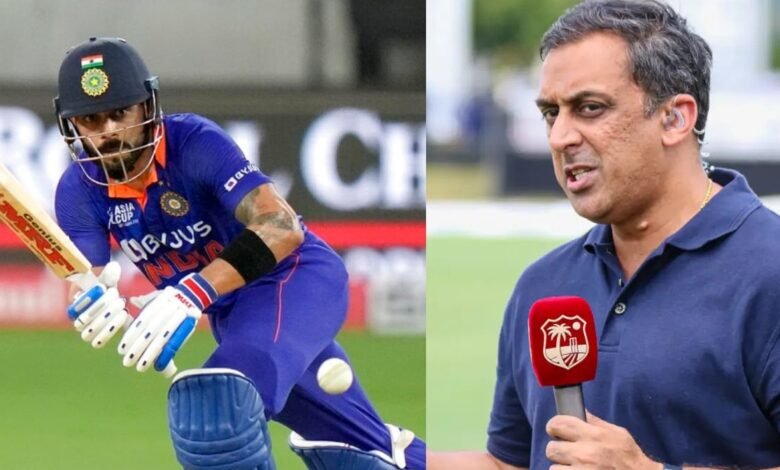 Former Indian cricketer Rohan Gavaskar has backed Virat Kohli to open the innings for India in the upcoming T20 World Cup 2022. He feels that for that to happen one of his favorite players 'KL Rahul' had to make way for the former Indian skipper.
"Virat opening would mean one of my favorite players will have to make way, which is KL Rahul," says Aakash Chopra 
The Board for Control for Cricket in India (BCCI) on Monday (12th September) named a 15-member squad for the T20 World Cup 2022. It's obvious that skipper Rohit Sharma along with KL Rahul will open in the event with Virat Kohli slated to bat at No.3
However, in recent times KL Rahul has struggled to score runs at the top, and also many have criticized him for playing slow at the top. On the other hand, Kohli has grabbed all the opportunities at the top and has scored runs at a healthy average and strike rate.
Parthiv Patel said, "Virat Kohli should open with Rohit Sharma in the T20 World Cup. He's suited to the Australian pitches". (On Cricbuzz).

— Mufaddal Vohra (@mufaddal_vohra) September 13, 2022
The fact that Kohli has now returned to the form has lightened the debate related to him opening the innings alongside Rohit Sharma at the top. In that matter, India can play Suryakumar Yadav at No.3 and also can play both Rishabh Pant and Dinesh Karthik in the side.
Speaking in a video on the Sports 18 show 'Sports Over the Top', Rohan Gavaskar was asked about whether Kohli should open in World Cup or not. Replying to which, he said:
"I think it's a great option. SKY batting at No. 3 is a very pleasing thought but I have to say if Virat opens, he has shown what a tremendous success he is as an opener, it means one of my favorite players will have to make way, which is KL Rahul." 
Gavaskar highlighted that India needs to make Suryakumar Yadav bat at No.3 as he's the best T20I batter India has.
"When KL Rahul is on song, he is an absolute class act. So it's one of those tricky sort of situations but SKY at No. 3, I think that's what we want. He is one of our best batters in T20
Rohan Gavaskar highlights Virat Kohli's record as an opener 
It's fair to say that Kohli has grabbed almost every opportunity that has come his way as the opener in the T20Is. Notably, he recently scored a century against Afghanistan in the Asia Cup 2022 batting at the top of the order.
72nd century calling? 👀

Predict the place and opposition for Virat Kohli's next 💯 in international cricket 👇 pic.twitter.com/49mlMyariv

— ESPNcricinfo (@ESPNcricinfo) September 13, 2022
Gavaskar pointed out Kohli's phenomenal record as the opener. He said:
"You look at Virat's T20 international numbers, they are outstanding. He averages about 55-57 and his strike rate is about 160, those are phenomenal numbers. His last two innings, again unbeaten innings – 80 and 122 – that tells you that he probably relishes opening as well."
Kohli's return to form will be a massive boost for Team India considering the upcoming T20 World Cup 2022. He will be next seen in action when India will take on Australia and South Africa in the upcoming home T20I series.