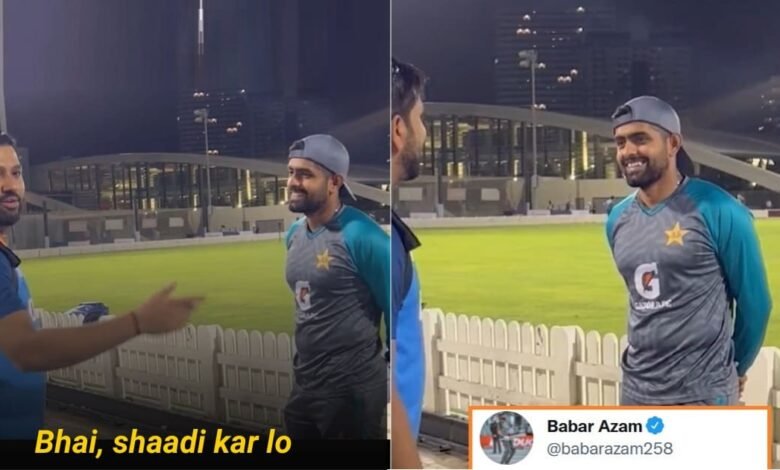 All eyes are focused intently on the captains of both teams, Rohit Sharma and Babar Azam, as they prepare for the high-stakes match that will take place between Team India and Team Pakistan in the Asia Cup 2022. The Pakistan Cricket Board (PCB) has just posted a video on its Twitter account in which the two leaders can be seen having a lengthy talk with one another.
Since Rohit Sharma was the more experienced of the two, he encouraged Babar to find a life partner, but Babar's response was priceless gold. The video of Rohit and Babar's encounter before their Asia Cup match has quickly gained traction across a variety of social media platforms since its first upload. The footage that was posted by PCB looks to have been taken during one of the training sessions, as the two skippers can be seen having an unscripted conversation in the video.
What did Rohit Sharma and Babar Azam talk about?
During the same event, Rohit can be heard urging Babar, "Bhai shaadi karlo" (which translates to "Bro, get married soon"), to which the Pakistani captain responds, "nhi, abhi nhi" (No, not right now).
©️ meets ©️#AsiaCup2022 pic.twitter.com/OgnJZpM9B1

— Pakistan Cricket (@TheRealPCB) August 27, 2022
In the days leading up to the cricket match between India and Pakistan, there have been a lot of honest exchanges between the two teams' players. Earlier on, pictures were taken of Babar meeting and shaking hands with Virat Kohli. Subsequently, Kohli was also seen hooking up with Shaheen Afridi.
The two individuals discussed Shaheen's ailment, and the bowler sent his best wishes to Kohli for the competition. In the meantime, the match between the two teams will take place on Sunday. This will be the first time that Pakistan and India have competed against one another since Pakistan won the Twenty20 International World Cup match against India last year.
Twitter Reacts:
I wish games & politics should be kept separated and 🇵🇰 & 🇮🇳 should have a full cricket series every year like Ashes

— Muhammad Mahmood (@Muhamma93066635) August 27, 2022
Kahan ho bhai… Zehar ugalnewale… Bhaago saalo.. Hum saath the…hain..aur rahenge.

— Madhu M (@MadhunaikBunty) August 27, 2022
Bhai zaruri nahein hai camera big boss ki tarah hamesha mun par. Thoda privacy bhi dedo. Yeh kon hai hamara media manager. Koi instagram influencer toh nahein hai yeh?

— Danial Rahim (@daniyalrahim5) August 27, 2022
🐷 meets 🐐

— 𝘼 𝙍 𝙅 𝙐 𝙉 🕶️ (@Eagle_iscoming) August 27, 2022
We love babar azam but don't know why pak fans hate us guys we are brothers please take it as a game we are not enemies ❤️

— Himanshu Pandey 🇮🇳 (@proudindian7197) August 27, 2022
Wow look at Babar's eyes he can't believe he is standing infront of Rohit Sharma great gesture ❤️

— Himanshu Pandey 🇮🇳 (@proudindian7197) August 27, 2022
So cute but yeh music kyu daaldiya yaar. Humein bhi sunn na hai😂

— Diya (@TheCricketGirll) August 27, 2022