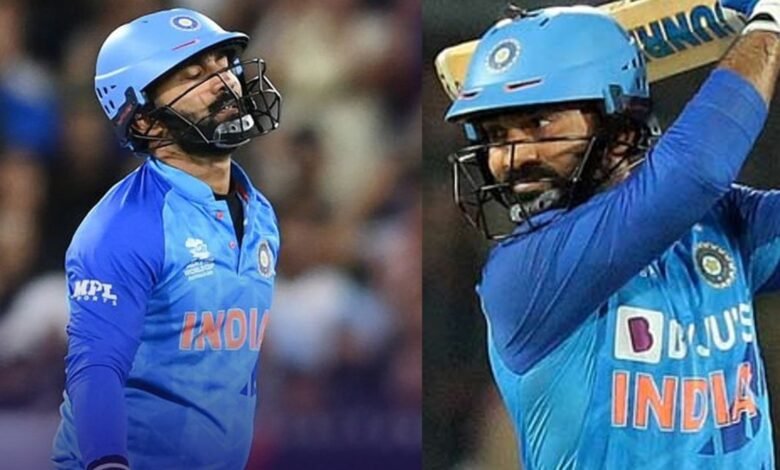 India and South Africa are currently involved in a game at the T20 World Cup. The match is happening in Perth. Batting first, India lost early wickets to South Africa. Dinesh Karthik arrived at the crease early but even he was not able to leave an impact. Here, we take a look at how Twitter reacted to the performance of Dinesh Karthik against South Africa in the T20 World Cup.
Indian batters struggle against the South African pace unit
Opting to bat first, India lost the wickets of KL Rahul and Rohit Sharma early. The likes of Virat Kohli and Deepak Hooda were also not able to add a lot of runs. Hardik Pandya lost his wicket to a brilliant catch by Kagiso Rabada. In the end, the responsibility of steadying the ship fell on the shoulders of Suryakumar Yadav and Dinesh Karthik.
Although the duo spent some time together, it was mostly SKY who took on the South African bowlers. He got to his second consecutive fifty of the tournament and helped India cross the 100 mark. On the other hand, DK was not able to time the ball well. In the 16th over, he tried to take on Wayne Parnell but ended up mistiming the delivery. He was out for 6 runs from 15 balls.
Dinesh Karthik fails against South Africa
Dinesh Karthik has actually not done well in the T20 World Cup, so far. Against the Netherlands, he did not get an opportunity but against Pakistan, DK failed a couple of times when he was expected to score a big hit. Especially when 2 runs were needed in 2 balls, he lost his wicket and this was a major disappointment. Against the Proteas, he had a good chance of leaving an impact. However, he could never strike the ball well. That said, it is only a few balls that DK has faced till now in the competition. The management will hope that he comes well in the coming games.
Dinesh Karthik was as awful tonight as he was against Pakistan 👎

— Sushant Mehta (@SushantNMehta) October 30, 2022
No player in the world is as overrated as Dinesh Karthik is🤷‍♂️

— Haroon (@hazharoon) October 30, 2022
5 off 15 from Dinesh Karthik#INDvsSA pic.twitter.com/E5rZJK4AkJ

— Not Your SunnY👑 (@khansunny1994) October 30, 2022
Rishabh Pant Should Replace Dinesh Karthik 😡😡

— Amit Kumar (@AMIT_GUJJU) October 30, 2022
Dinesh Karthik has been with the team since 18 years and has never cemented his spot in these years. He is just destroying crucial years of a more promising player Rishabh Pant. He is not that a good player now and failing continuously#INDvSA #T20WorldCup

— ⋈/swarglok. (@eotdonlyme) October 30, 2022
It appears Dinesh Karthik would start hitting those big ones only after 15 overs.

— C.VENKATESH (@C4CRICVENKATESH) October 30, 2022
Dinesh Karthik has been playing international cricket for two decades now. You cannot be so disabled against spin. Just horrible

— tea_addict 🇮🇳 (@on_drive23) October 30, 2022
To be honest, DK was never picked to rebuild an innings. That's not how he remodelled his T20 game. But he will be gutted he got out playing the first big shot of his innings after 15th over. Overs 16-20 are his business hours. #INDvSA #T20WorldCup

— Arani Basu (@AraniBasuTOI) October 30, 2022
Dinesh Karthik is assisting Suryakumar Yadav as much as an associate assists Senior advocate during the court proceedings.

— Ishaan (@_ishaan58) October 30, 2022
Immature shot from a vastly experienced Dinesh Karthik has destroyed the momentum built by Surya..pathetic. senseless batting.

— shah_jinesh86 (@ShahJiny) October 30, 2022
And he perishes trying to play a big shot off the first ball of his designated slot of last 5 overs.

— C.VENKATESH (@C4CRICVENKATESH) October 30, 2022