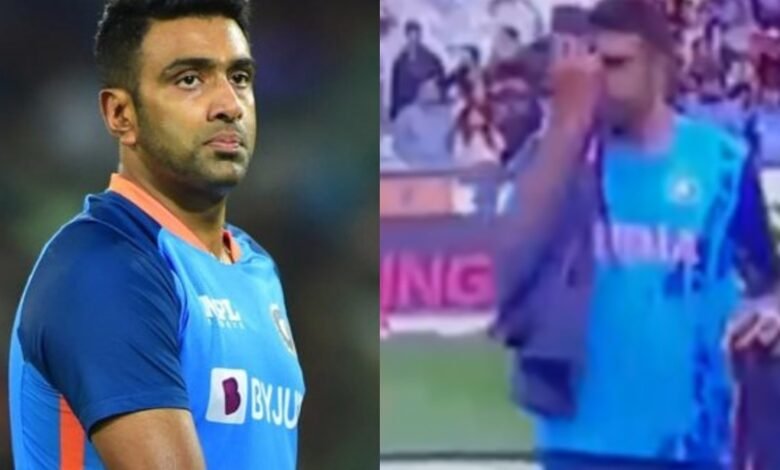 Indian off-spinner R Ashwin has finally opened up about his viral video in which he can be seen sniffing his clothes. The veteran player said that after putting in efforts to find his jacket he finally checked for the perfume he use.
R Ashwin's hilarious way to identify his jacket goes viral 
Indian Cricket Team has managed to reach the semi-finals of the T20 World Cup 2022. They have produced magnificent performances in the league stage and one came in their last match against Zimbabwe.
They thumped the opposition by 71 runs and made sure that they end the group at the top of the points table. Suryakumar Yadav and R Ashwin shine respectively with the bat and ball as India ended the group stage on high.
However, R Ashwin didn't only entertain fans with his bowling performance, he made many laugh with his gesture ahead of the game as well. When both the skippers were present in the middle for the toss, the off-spinner in the background was seen sniffling the two jackets to find his own.
In the video that went viral on social media, R Ashwin in the background can be seen collecting his jersey from the ground. He founded two similar jerseys and takes a look at them. When he fails to identify his own, he sniffs both and after identifying his own, he throws the other one down and leaves.
Here's the video:
Ashwin Anna Supremacy

This is the right way to find your clothes pic.twitter.com/a9YSakerU4

— chintubaba (@chintamani0d) November 7, 2022
R Ashwin reacts to the video of him sniffing his jacket 
As the video went viral on the internet, this made cricketer Abhinav Mukund questioned R Ashwin on social media and ask him about his gesture. He asked: "Watched this video multiple times already. Just cracks me up again and again. @ashwinravi99 pls enlighten us with your logic of picking the right sweater."
Reacting to this, R Ashwin finally revealed what he was doing. The off spinner said that he checked the perfume he use to identify his jacket.
"Checked for the sizes to differentiate Checked if it was initialed. Finally checked for the perfume i use. Adei cameraman." 
Checked for the sizes to differentiate!❌
Checked if it was initialed❌
Finally 😂😂 checked for the perfume i use✅
😂😂
Adei cameraman 😝😝😝😝 https://t.co/KlysMsbBgy

— Ashwin 🇮🇳 (@ashwinravi99) November 8, 2022