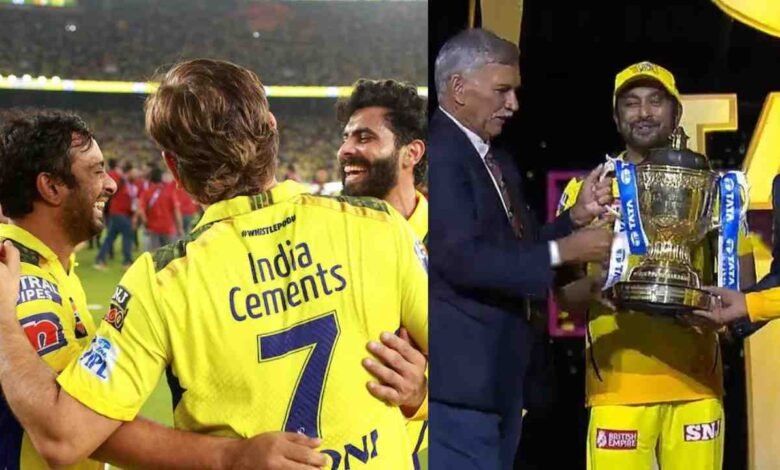 The camaraderie among players in the Chennai Super Kings (CSK) team was on full display when they clinched their fifth Indian Premier League (IPL) trophy. CSK triumphed over Gujarat Titans in a nail-biting finish. Undoubtedly, the victory was made all the more remarkable by a heartfelt gesture from Captain Mahendra Singh Dhoni.
Ambati Rayudu, a key CSK batsman, shed light on the remarkable moment that added a warm touch to the post-match celebrations. In an interview with NDTV, Rayudu detailed an unforgettable instance wherein Dhoni requested him and Ravindra Jadeja to accompany him to the trophy presentation.
"After the match, he pulled us aside. He wanted us there with him when he collected the trophy," Rayudu said. This act is a testament to Dhoni's strong belief in team spirit and unity. It is a display of his signature leadership style, which has been a cornerstone of his captaincy throughout his cricketing career.
Sharing the spotlight with Jadeja and Rayudu, Dhoni demonstrated how he values every member of the team. The skipper's insistence on having both of them by his side, underlines how he attributes the victory to their collective efforts. This move not only highlighted the significance of every player's role but also epitomized Dhoni's humility.
In Rayudu's words, "It was incredibly special. That sort of thing has never happened before." Rayudu went on to add that this act was truly reflective of Dhoni's personality, known for his humility and team-first approach.
Ambati Rayudu heaps praise on MS Dhoni for his gesture in the IPL 2023 final
It's noteworthy that this move by Dhoni was not just an isolated act. Instead, it was a grand culmination of the ethos that he has cultivated over the years at CSK. The emphasis on team spirit, collective responsibility, and shared success are part and parcel of his leadership style.
YOU MAY ALSO READ:
Dhoni's gesture towards Rayudu and Jadeja is a testament to the culture of mutual respect within the team. This event underscores the idea that success in cricket is not the result of individual brilliance alone. Instead, it emerges from the collaboration of many skilled players, working together towards a common goal.
Rayudu expressed his deep admiration for Dhoni, saying, "That's the person he is, and the person that the world knows." It's clear that Dhoni's humility and respect for his teammates are not lost on Rayudu. The latter also stressed that Dhoni's actions went beyond mere symbolism. They underscored the role of shared effort in the team's successful campaign.
Overall, Rayudu's revelation offers valuable insight into the values that guide the CSK team, specifically under Dhoni's leadership. This gesture towards Rayudu and Jadeja is emblematic of a leadership style that treasures each player's contributions, underlining the importance of unity in shared success.
In conclusion, the significance of Dhoni's actions extends far beyond the trophy presentation. It provides a deeper understanding of the dynamics within the CSK team, and the principles that have driven their consistent success in the IPL. As Rayudu noted, "It is his gesture." This sentiment indeed sums up Dhoni's impactful, considerate, and humble leadership style.
Rayudu said "Dhoni called me & Jadeja before the ceremony saying he wants us to join him in lifting the Trophy, he thinks it was the right moment to do it with both of us, it was really special from him, I don't think it has happened, that is the person he is, the person world… pic.twitter.com/X8VasKbgF7

— Johns. (@CricCrazyJohns) June 2, 2023