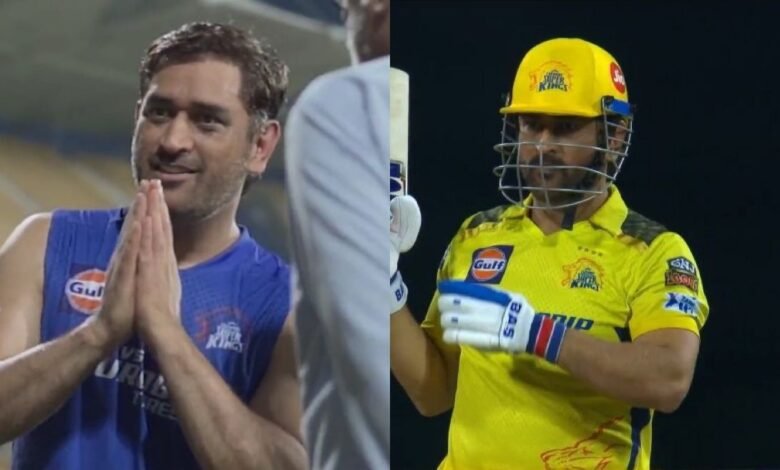 Chennai Super Kings captain MS Dhoni is one of the best captains in the history of the Indian Premier League. The cricketing brain has been associated with the IPL franchise, CSK since the inception of the IPL.
Under his captaincy, Chennai Super Kings have achieved great things as a team. Notably, MS Dhoni changed the entire complexion of CSK by steering the team to four IPL glories and two Champions League T20 titles.
Besides that, CSK have made it to the playoffs eleven times, which is the most by any team in the history of the Indian Premier League. On top of that, they have made it to the finals nine times, the most by any team.
MS Dhoni retired from international cricket in late August 15, 2020. Since his retirement from the international arena, there were reports and widespread speculations of MS Dhoni calling it quits from the IPL as well.
Needless to say, MS Dhoni kept playing cricket and entertained the fans at the best scene. In the ongoing IPL 2023 season, MS Dhoni dropped a hint about his retirement by adding that he is enjoying his last phase of his career.
CSK CEO believes MS Dhoni is going to play next season
Meanwhile, Chennai Super Kings CEO Kasi Viswanathan made the headlines today after he came up with a massive update for MS Dhoni fans across the world.
CSK CEO further added that he strongly believes that MS Dhoni is going to play IPL in the next season. Despite age on his side, MS Dhoni is still giving everything for the team and the fans.
The CSK fans who turn up in big numbers always love to watch MS Dhoni bat even if it's for a short time. Despite the fact that he has a knee injury, he is still playing with grit and determination.
Beautiful news to start the day https://t.co/YkYZiHvQjH

— JEEVAN (@itsjeeevan) May 15, 2023
Best News Of The Day

— Vishwajit Patil (@_VishwajitPatil) May 15, 2023
The problem with CSK is they don't have a captain beyond Dhoni and neither they have any plans of transition. Once Thalla quits playing for CSK it's game over for them.

— Sagar 🇮🇳 Jai Hind (@sagaristic) May 15, 2023
🥺🥺🤞❤️❤️

— Prabhasᔆᵃˡᵃᵃʳ🏹 (@rajuprabhas_) May 15, 2023
It means csk will win the trophy next year and give farewell to dhoni,but not this time

— farhan (@farhanmalek1818) May 15, 2023
CSK ceo knows business 😹😹😹

— DC HYPE (@17xDC) May 15, 2023
Very good news

— Himesh Pandey (@HimeshP36715085) May 15, 2023
— medhansh khurana (@MedhanshKhurana) May 15, 2023
🥳🥳🥳🥳🥳

— Dishan joshi (@Dishanjosh61254) May 15, 2023
🙏🙏🙏🙏🙏

— Praneeth (@Venkatasai85) May 15, 2023
He should retire.. already has knee problem..it could be dangerous

— raz (@iamraz_) May 15, 2023