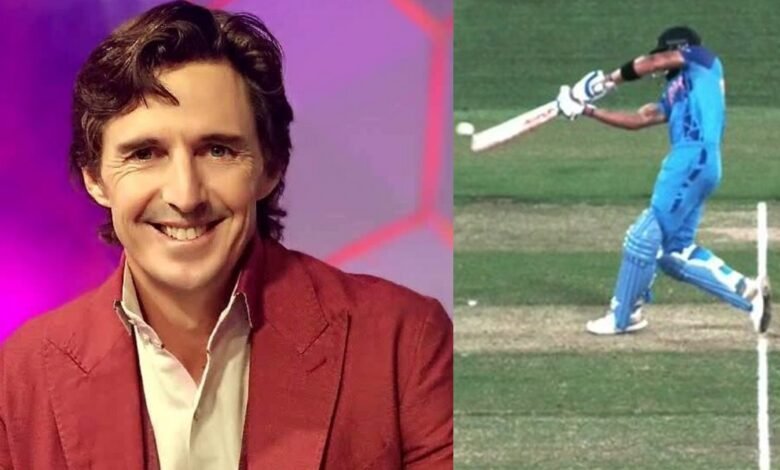 India won by four wickets against Pakistan in a thrilling encounter. There were many decisions that were close to creating a controversy in the final over. A few former cricketers also questioned them. Former cricketer Bradd Hogg was one of them. However, in response to his tweet, there were plenty of reactions. Here, we take a look as Australia cricketer trolls Brad Hogg after the former leg-spinner questioned India taking runs after getting out on free-hit.
Brad Hogg questions umpiring decisions in the last over
The former Aussie had two questions about the final over. Firstly, he wanted to know why the no-ball was not reviewed. Later, he also expressed how it was possible to take runs off a free hit after the batter was bowled. Here was his tweet:
Why was no ball not reviewed, then how can it not be a dead ball when Kohli was bowled on a free hit. #INDvPAK #T20worldcup22 pic.twitter.com/ZCti75oEbd

— Brad Hogg (@Brad_Hogg) October 23, 2022
Regarding his first question, many responded telling that on-field calls about no-balls that do not result in a wicket cannot be reviewed. For his second query, Australian cricketer Amanda Wellington had a straight response.
Didn't the @ScorchersBBL get a 4 after being bowled off a free hit in the @WBBL the other night against the stars! 😅 https://t.co/pZabE68edc

— Amanda Wellington (@amandajadew) October 23, 2022
The cricketer was talking about a similar incident that had happened in the women's Big Bash League a few days ago. It needs to be noted that Brad Hogg played a lot for Perth Scorchers, the team that had the benefit in this case.
The free hit is missed … and it bounces off the stumps for four 😅 #WBBL08 pic.twitter.com/GtFfEMLi6v

— 7Cricket (@7Cricket) October 20, 2022
Not just Amanda, there were plenty of other similar responses, too. Here is one popular clip about Hogg's former teammate Brad Haddin taking advantage in a similar situation:
Did you play that match @Brad_Hogg sir? pic.twitter.com/pC1eVoNjhM

— Koushik Karfa (@koushikkarfa12) October 23, 2022
A fine win for Team India
Virat Kohli and Hardik Pandya's form helped India cross the line. It was a satisfying victory because, at one point, everything was going downhill for India.
This win will help India in the tournament. Winning a pressure game against Pakistan is always useful. The men in blue could no do that in 2021. That eventually led to their exit. Now that they have won this match, they will be confident of entering the semi-finals.