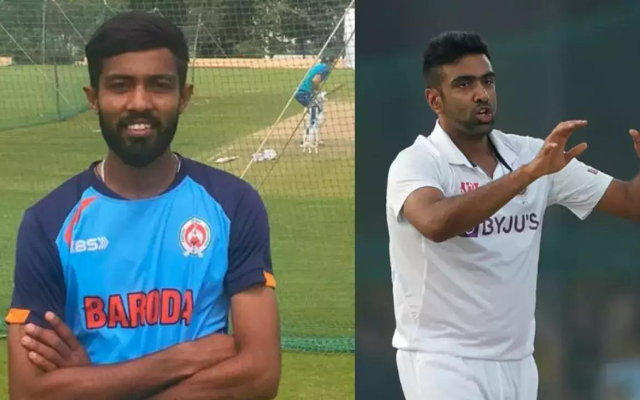 India's premier off-spinner Ravichandran Ashwin is one of the key players to watch out for in the upcoming Border Gavaskar Trophy series against Australia.
The veteran cricketer who is a regular feature in Test cricket has taken as many as 449 wickets in 88 Tests. Notably, he has also played pretty well with the bat, scoring 3043 runs at an average of 27.41.
The experienced campaigner has scored two centuries and 13 half-centuries in red-ball cricket and will be looking to add more milestones to his account in the upcoming series.
Ravichandran Ashwin asked Mahesh Pithiya what he was bowling to the Australians
Recently, Australia hired Ravi Ashwin duplicate "Mahesh Pithiya" whose bowling action is quite similar to that of veteran off-spinner Ravichandran Ashwin. In fact, Aussies are wary of the fact that they will have to tackle the spinners in order to survive the heat and the battle.
This is precisely the reason why they hired Mahesh Pithiya and the latter tried his maximum best to help the Australians in the nets in the build-up to the Border Gavaskar Trophy series.
Meanwhile, Mahesh Pithiya who worked with Australians in the nets spoke about his meeting with Ravichandran Ashwin while speaking to the news agency PTI. The moment when he met Ravi Ashwin, he touched his feet.
Later on, Ashwin hugged him and went on to ask what exactly he was bowling to the Australians. India will be expecting a tough challenge from the Aussies in the upcoming Test series.
The first Test between India and Australia will go all guns blazing on February 9, Thursday at VCA Stadium in Nagpur. Both teams have the top players at their arsenal for the battle and it remains to be seen which team will use their resources to better effect with a view to drawing the first blood in the series.
Ashwin started taking notes already 🤧🤧 https://t.co/bNwyg6tylf

— ・ิ 𝙑𝙖𝙧𝙨𝙝 ・ิ ^・^🐾 (@VarshRaja) February 7, 2023
Plot twist Mahesh shares to Ash about how Smith and other batters have plans to play spin in India 😉

— Gokulraj🇮🇳 (@itsmegokulraj) February 7, 2023
Ashwin and Mahesh meet up pic.twitter.com/TvPlDlGXBG

— Prasun Jha (@jprasun21) February 7, 2023
Amazon prime will make a documentary on this plot twist🤣🤣

— Kartik (@kchandwaskar) February 7, 2023
Hamara secret agent 😂😂

— Aarav Mavi (@AaravMavi14) February 7, 2023
🤣🤣🤣🤣🤣🤣 asli engineer after viva we used to ask who completed his viva 🤣🤣🤣🤣

— Vinny (@im_in_ur_heart_) February 7, 2023
Plot twist Mahesh pathiya was sent by Ashwin

— Swastik Dash (@Swastik_45) February 7, 2023
Agent Ashwin.

— Swaroop Bharadwaj (@i_am_bharadwaj1) February 7, 2023
Mahesh was Secret Agent of Ashwin 😱

— Utkarsh Kumar Singh (@utkarshkrsingh7) February 7, 2023
Hahaha..
ASH anna be like#BorderGavaskarTrophy pic.twitter.com/OWzM9jfpAl

— Sonar Deepak 🇮🇳😷🆙️ (@SonarDeepak911) February 7, 2023
Once a chess player, always a chess player.

Khelo Dimag se.@ashwinravi99 pic.twitter.com/rU98FhluEA

— A-bhi🇮🇳 (@naukarhun) February 7, 2023