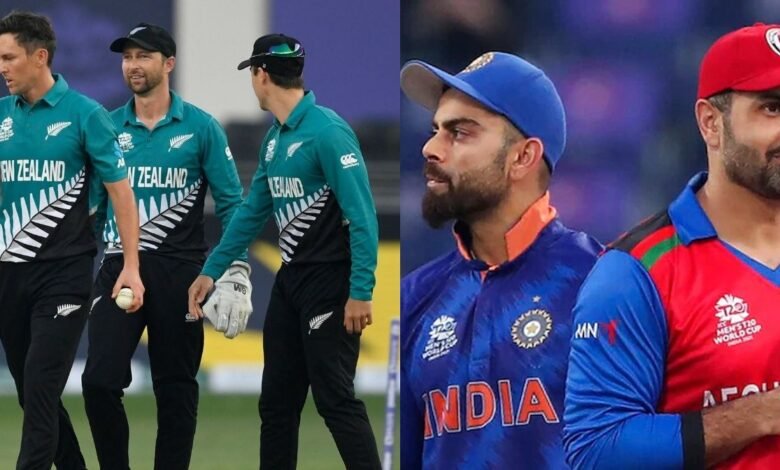 The Indian cricket team is not playing in the T20 World Cup 2021 today, but the viewership of the Afghanistan Vs New Zealand game which is to be played in the afternoon at Abu Dhabi cricket stadium today is expected to be as high as any of India's matches in the World Cup so far.
India's chance of advancing to the semi-finals of the ongoing World Cup is hanging by a thin thread and is hugely dependent on an Afghanistan victory today. An Afghanistan victory won't automatically send India into the semis, but an Afghanistan defeat will automatically eliminate India from the tournament.
If Afghanistan wins today, both Afghanistan and New Zealand will finish their group campaign with 6 points in 5 games. India currently has 4 points in 4 games and in case of an Afghanistan win, they can also stretch their points tally to 6 by beating Namibia tomorrow.
With three teams levelled at 6 points, it will then come down to the net run rate (NRR) situation and since India are playing their last game tomorrow, they will know by how much of a margin they need to beat Namibia to surpass the eventual NRR of both Afghanistan and New Zealand and achieve the second position in group 2. However, that scenario can come into effect only if Afghanistan wins today.
Since the time India beat Scotland by a huge margin a couple of days ago, the Indian fans have been praying for an Afghanistan win over New Zealand and have been cheering for the Afghan cricketers to go well against the Kiwis.
Indian fans have come up with hilarious memes ahead of the Afghanistan Vs New Zealand game
Despite the situation being a little tensed, the Indian fans are also seeing the lighter side of it and Twitter is full of funny memes ahead of the Afghanistan Vs New Zealand game. Some of those memes, which link the tournament situation to the scenes of Bollywood movies, are truly hilarious.
Although New Zealand is a highly skilled and disciplined side, Afghanistan has got enough in their arsenal to beat any side in the world in slow and low conditions. They have played their cricket in the UAE for a long time, and they are blessed with the services of some of the best spinners going around in the game at the moment.
Here are some of the funny memes that Indian fans posted on Twitter before this much anticipated Afghanistan Vs New Zealand game –
Whole India if #Afghanistan perhaps beat New Zealand in their last group match :#INDvsSCO#AfgvsNZ pic.twitter.com/Z8lxLz0SIE

— Anirudh Sharma (@Anirudh78867581) November 5, 2021
Team India getting ready to support Afghanistan pic.twitter.com/VBMJy3jYbk

— त्रि-Vines (@trilochann45) November 6, 2021
#AfgvsNZ
Come on Afghanistan whole India is behind you.#INDvsSCO pic.twitter.com/xduADjdDle

— vinay pandey (@vinay6840) November 5, 2021
Indian Fans- Come on Afghanistan.
You can Beat New Zealand. WE BELIEVE IN YOU.

Afghanistan- pic.twitter.com/IAEMTf0rFV

— Aadi ॐ (@Aditya_goat_A3) November 6, 2021
Indians want Afghanistan to win against New Zealand.

Meanwhile Afghani: pic.twitter.com/lD3DDpyJ97

— Habib Faridy🇮🇳 (@habib_faridy) November 6, 2021
Indian Fans : what is your strategy for the match against New Zealand ?

Afghanistan Team : pic.twitter.com/iDwVSdMf1y

— Bharatiya Web Series (@bharatiya_web) November 6, 2021
Afghanistan to New Zealand tomorrow#T20WorldCup pic.twitter.com/zogKig42r8

— Danielullah Zadran🇦🇫 (@_UnrealDaniel) November 5, 2021
Indians hoping for Afghanistan to win the match against New Zealand:#AfgvsNZ pic.twitter.com/PvW2MnjPSb

— shruti (@JustShruting) November 5, 2021
Indian Cricket Fans to Afghanistan team when they go to face Newzealand :#AfgvsNZ #ICCT20WorldCup #Cricket pic.twitter.com/F3060kNIpB

— Alisha (@imurAlisha) November 7, 2021
Never thought india would be depending on afghanistan.😭😭
#AfgvsNZ pic.twitter.com/4F322uu4KT

— Anand Bhai (@AnandBhai_) November 5, 2021
Afghanistan team seeing whole India supporting them#AfgvsNZ pic.twitter.com/ecgQtOUu2T

— डॉ. राज तक (@rajtakk) November 5, 2021